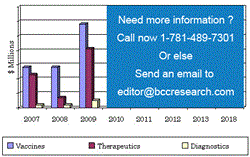 Wellesley, MA (PRWEB) November 08, 2013
According to a new technical market research report, The Global Influenza Market from BCC Research (http://www.bccresearch.com), the global market for influenza vaccines, antivirals, and diagnostic products was valued at nearly $3.8 billion in 2012 and is expected to reach $4 billion in 2013. BCC Research projects the market to grow to nearly $6 billion by 2018, and register a five-year compound annual growth rate (CAGR) of 8% from 2013 to 2018.
Influenza, also known as the flu, affects the upper respiratory tract and often the lungs. The infection typically lasts approximately one week, but without the use of medications the virus can continue to cause symptoms for two weeks or more. The most typical method of transmission is by moisture droplets being spread by coughing and sneezing. The young and the elderly are considered to be at a higher risk primarily due to the vulnerable state of their immune system. People with chronic diseases, such as cancer and HIV, are also at a higher risk; for them, contracting influenza can be deadly.
Annually, up to a half-million people die of influenza, and with the threat of a pandemic in any given year, government agencies and disease prevention organizations are devoted to gaining control of the situation. The 2009 pandemic generated attention to surveillance measures, pandemic preparedness, vaccine production, and antiviral control. It also revealed issues with laboratory capacity and the benefits of rapid testing in a pandemic situation.
Many companies have been asked to assist with the problem and others are furthering their position with backing from government agencies. According to BCC Research, the next five years will continue to display support and funding for many research and development programs, product development, and pandemic prevention and/or control by worldwide governments, organizations, and health professionals.
The influenza products market can be broken down into three segments, including vaccines, therapeutics, and diagnostics. All three segments are significantly impacted by seasonal factors and will be vulnerable to weak flu seasons. However, increased efforts in education for preventing influenza through vaccine use will continue to be beneficial to vaccine product developers/marketers. Several significant trends continue to influence the global influenza market including H1N1 outbreaks, Avian Flu surveillance, antiviral resistance, recreated viruses, cell-based and recombinant products, epidemic/pandemic preparedness, immaterialized market risk, and world influenza impact (seasonal and pandemic).
An aging population is a significant driver in the growth of the market, boosting sales for products directed at preventive measures, while the international market continues to show promise in vaccination, treatment, and diagnosis.
This BCC Research report is designed to be a helpful business tool that provides a thorough evaluation of the market for influenza products. The geographic scope of this study is worldwide, with emphasis on U.S. and European data. The report identifies markets in general segments: vaccines/therapeutics and diagnostics. Each market segment discussion provides detailed information based on product categories, uses of products, forecasts, and competitive analyses. Additionally, the study covers some of the most significant issues, trends, and market factors.
Source: http://www.bccresearch.com/pressroom/phm/global-market-influenza-vaccines-antivirals-diagnostic-products-market-grow-nearly-$6-billion-2018