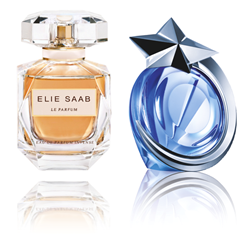 A sophisticated fragrance is a timeless way of really spoiling a special lady!
Johannesburg (PRWEB) November 19, 2013
Christmas is around the corner again, and the only thing more thrilling than receiving the perfect gift is giving the perfect gift. To help choose that special gift for a mom or girlfriend this year, Red Square has put together some great Christmas ideas.
With Red Square's online beauty specialist store, http://www.redsquare.co.za, Christmas shopping can be done at the click of a button, including gift-wrapping, delivery and three beauty samples - perfect small stocking fillers!
A sophisticated fragrance is a timeless way of really spoiling someone, but it's not always easy to choose the right brand. Here's a fabulous selection of Red Square's women's fragrances, making it easy to select the perfect scent for that special person.
Also remember to keep an eye out for our fantastic gift sets and allow us to help add that extra special touch this Christmas!

If the lady in mind is ultra-sensual and feminine, then Elie Saab Le Parfum, Eau de Parfum Intense (50ml) is the fragrance for her. For just R1095, this fragrance is characterised by an orange blossom scent, with heart notes such as ylang ylang and rose honey, as well as base notes of patchouli and ambery accord.
For women who appreciate the alluring subtlety of a fantastic floral fragrance, For Her EDT is the enchanting new fragrance from Narciso Rodriguez (50ml). Retailing at R795, For Her features heart of musk which is enhanced by a soft yet bursting floral opening.
If she's perfectly poised and confident, BOSS's new JOUR pour femme (50ml) is the fragrance you are looking for. Encapsulating the elegance and sophistication of femininity, JOUR has a floral and fruity fragrance inspired by the first light of day. With heart notes of honeysuckle, lilly of the valley and freesia, this fragrance carries a feeling of composure (R755).
For the ethereal beauty, Thierry Mugler's Angel EDP Spray (50ml) is a heavenly scent complete with sensual and passionate notes. It evokes the tenderness of childhood memories along with a sense of dreamlike infinity. The first perfume by Thierry Mugler, this fragrance retails at R895 (refill 795).
The ultimate modern diva will love Modern Muse (50ml) by Estee Lauder which can only be described as ultra-chic and ultra-feminine. At R895, this fragrance features a delightful combination of light floral, rich vanilla and woody notes.
Dolce and Gabbana needs no introduction, and this year the country's most sensual sirens are wearing a D&G fragrance called Light Blue (50ml) which boasts a fruity, floral scent (R765).
A perfect fit for the woman who can light up a room with her optimism and exuberance, Pleats Please EDT Spray (50ml) by Issey Miyake is celebrated for its "vertically pleated" flowery, fruity and woody structure. The fragrance (R745) also features opening splashes of Asian hybrid fruit Nashi which is achieved by crossing apples and pears.
For the daring woman who loves to push the limits, YSL's Manifesto (50ml) is the embodiment of audacity and desire. Retailing at R995, the fragrance features bouquet of jasmine, complete with green notes and bold trail combining wood, vanilla and tonka beans which are heralded as the signature of this new daring femininity.
If she exudes energy and alluring appeal, Honey (50ml) by Marc Jacobs is a deliciously sunny and floral fragrance. With the freshness of green pear combined with fruity punch and juicy mandarin, Honey is brightness and warmth in a bottle (R910).
Ladies who are known for their playful and audacious spirits will enjoy the addictive floral and fruity fragrance called See by Chloe (50ml). Combining juicy bergamot and apple, the fragrance oozes energy and urban edginess (R845).
Christmas shopping with Red Square this year is made personal and easy. What more can anyone ask for? With products purchased online, we'll even include free delivery for orders over R350, but remember to place orders before the 18th of December, or before the 13th December for those living outside major cities, so that the gifts are ready and waiting on Christmas morning.
About Red Square
Red Square is South Africa's leading cosmetics speciality brand offering the widest range of national and international branded cosmetics in 42 stores, so customers will now be able to choose from 42 stores or shop online at http://www.redsquare.co.za.
Covering make-up, skincare, fragrances and accessories, Red Square includes famous brands such as Clinique, Clarins, Estee Lauder, L'Oreal and Revlon and is constantly developing its catalogue as seen with the recent additions of GOSH, Nails Inc, Smashbox, Bobbi Brown & CK Colour.
Customers can consult a beauty advisor at the Red Square treatment counter for a free skin analysis.
Red Square now offers a unique sampling programme for on-line customers that allows them to choose three free samples with every order. The website promises to be a hugely valuable tool with a wealth of product information and customer reviews. Most of the brands in store are available on the website, with more brands being added every month. All orders over the value of R350 are delivered at no charge.
Customers can select from a wide choice of payment options including Edgars Cards and Jet Thank U account cards, as well as all major credit cards. The Thank U loyalty programme offers additional customer benefits which can be earned when spending in-store or on-line.
Call the Red Square Call Centre on 0800 203 925, visit http://www.redsquare.co.za or email redsquareinfo(at)edcon(dot)co.za.
Customer Service Call Centre Operating Hours:
Monday to Friday 08h00 to 18h00
Saturday and Sunday 09h00 to 15h00
Public Holidays Closed
How do I apply for an account?
At any Red Square / Edgars store in the customer service department.
SMS your name, surname, ID number, gross income and expenses to 49222.
Click on the "apply for an account" link in the footer of the website and complete the online application form.