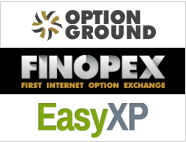 (PRWEB UK) 10 November 2013
During the last two months, three successful binary brands upgraded their platform to a TRADOLOGIC-powered one. Now three of TechFinancials's clients use TRADOLOGIC's products in order to increase their profitability. EasyXP, Finopex and Option Ground took the decision to leave their previous platform provider and start using TRADOLOGIC's platform, after they conducted a market research and found out TRADOLOGIC's products can satisfy their needs and goals to the most. The three brands will be united into one binary brand called Regaloptions.
TRADOLOGIC was their first choice when searching for a more powerful and efficient binary platform to help them grow their business. TRADOLOGIC's platform is not only powerful but also stable and reliable which allows operators to make a smooth transition to it. It possesses the necessary features that binary brokers need to increase revenue and decrease expenses.
Earlier this year the major broker Cedar Finance also changed its platform to a TRADOLOGIC-powered one. Cedar Finance's CTO Slawek Pucia commented: "The migration to TRADOLOGIC's platform went smooth. We did not experience technical problems during the transition and we already see the effect of TRADOLOGIC's platform in terms of increased efficiency and profitability."
TRADOLOGIC uses a new and revolutionary widget-based trading platform. Widgets are small applications, hosted in a webpage which can be executed by an end user. They are designed to enable integrators to replicate the functionality of the existing TRADOLOGIC trading platform by embedding them in third-party content management system. Widgets allow website owners to have their own websites, built with their own technology, hosted on their own servers, with their own databases while at the same time they use TRADOLOGIC trading platform's capabilities.
TRADOLOGIC's team believes that the new trading platform will help EasyXP, Finopex and Option Ground grow, develop the business and therefore increase their profits. TRADOLOGIC knows that the advantages of the company's trading platform will lead to successful partnerships with these three companies and recommends other companies to try TRADOLOGIC's products and find out why it is the best binary option platform provider.
About TRADOLOGIC:
TRADOLOGIC is the global leader in the financial trading industry with technology built specifically for the binary options trading market. TRADOLOGIC's team pioneers in the binary option trading field and possesses a first-hand insight and deep knowledge about the financial trading industry. Currently, the company offers its clients a variety of products including option types, trading tools, advanced features, integration solutions and services that deliver outstanding trading experience and optimized user value.