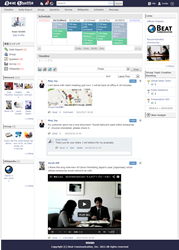 Beat Communication is the pioneer of enterprise social in the world.
Tokyo, Japan (PRWEB) November 11, 2013
Beat Communication, the pioneer of enterprise social network in Japan, has been providing cutting-edge social technology solutions and services for corporate, government, and educational institutions through both public and private cloud. We began providing these enterprise solution services from 2004 and the market has been growing ever since. Today, other enterprise social such as "Chatter" & "Yammer" are also pollular among enterprises.
Beat Communication has achieved many successes providing approximately 300 different companies.
Their core service, "Beat Shuffle", has been taken advantage mainly by major national clients in a wide range of industries from Airline Industry to Manufacturing Industry.
"Beat Shuffle Global" is an information communication system which gives you fast, easy, and efficient way to communicate with other employees within the organization.
The Product is full-scratched and its structure consists of stand-alone modules that enable its system to make different appearances based on the purpose of usage.
"Beat Shuffle Global" integrates the functionality of social graph, micro blogging, community, diaries, Q&A as forum, survey, wiki, schedule and message and provides faster decision making within companies.
The main functions of "Beat Shuffle Global" are as below:
"Timeline" - Able to support real-time communication
"Community" - Able to share information or discuss among specific members by forming groups
"Diary" - Able to post long messages, utilizing images, videos, and maps
"Q&A" - Able to support knowledge management of organizations
"Wiki" - Able to create authorized information among members
"Survey" - Able to post in a form of a survey
"Schedule" - Able to manage your schedule with your linked users
"Message" - Able to send and receive messages with specific or group
"File Manager" - Able to unify management of files you posted and shared with your community members
We provide our system through ASP(Cloud), a remote software that you can access though a web browser. No initial cost is charged but monthly usage fee is only needed according to license. We also provide regular version up of the system.
As we mentioned above, "Beat Shuffle's" strength point is module function. It enables to customize system structure flexibly by turning functions on and off according to utilization purpose. You don't need to pay additional cost for customization.
Enterprise Social in Japan was also used in companies as BCP solution (Business Continuity Planning) during the mega earthquake happened on 3.11, when all the telephone lines were out and employees could not contact each other. Our Clients used "Beat Shuffle" for an emergency purpose as internal communication and decision making.
The functions of "Beat Shuffle Global" can be checked by logging into the customer demo site below.
Beat Shuffle Global Customer Demo Site
URL: http://i18n.shuffle.beat.co.jp/
Mail: pr(at)beat(dot)co(dot)jp
Pass: 1111
Beat Communication & "Beat Shuffle Global" in detail
URL: http://www.slideshare.net/James7777/beatcomeng-pdf
Beat Communication is a pioneer to start providing its own commercial Social Enterprise 2.0 software in the world. Designed to be easy to use, "Beat Shuffle" empowers social collaboration and brings social technology to a wide range of companies changing the way work gets done. Founded in 2004, Beat Communication headquarters is located in Tokyo, Japan, but has clients worldwide.
For more information, please visit http://www.beat.co.jp/english.