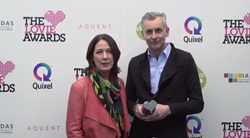 Graz, Austria (PRWEB UK) 5 December 2013
The Helmut List Halle App, created and developed by SCOOP & SPOON, won both the Lovie Award and the People's Lovie Award in the Mobile and Applications (Entertainment) category. The event app prevailed against stiff opposition, with almost 70 entries in this category. Second place went to a Rolling Stones app for Universal Music.
These awards placed Austria's leading technology and marketing agency in exalted company alongside BBC, IKEA, Microsoft, Skype Universe and others. It is a great success for SCOOP & SPOON, and there were extensive celebrations in our offices in Vienna, London and Graz!
"The two awards clearly show that our work is at the very highest level that can compete with the very finest in Europe. At the same time, we are delighted that the users themselves are so enthusiastic about the event app", said Michael Ksela, CEO and founder of the agency. SCOOP & SPOON's client, the Helmut List Halle, is also extremely pleased with the award and Kathryn List, CEO of the AVL Cultural Foundation, travelled to London with Michael Ksela to collect the award at a special ceremony.
The Lovie Awards are the most prestigious awards for web-based developments of European companies and institutions. This year, with nearly 1,500 entries from more than 30 European countries and more than 45,000 votes for the People's Award Lovie, a new record was achieved for participation.
About SCOOP & SPOON
SCOOP & SPOON, with their strong foundations in marketing, technology and design have succeeded in clearly differentiating themselves from the competition. The agency helps companies of every type and size in all kinds of business decisions and supports them in achieving their goals. The company's wide array of strengths means that different teams of experts are individually assembled to take on all kinds of briefs. SCOOP & SPOON develop desirable brands for their customers with design, branded content, mobile, social media, digital display, usability, smart phone apps, tablet apps, websites, and other services. SCOOP & SPOON has 52 employees working out of offices in Vienna, London and Graz.