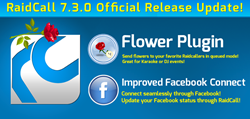 (PRWEB) November 09, 2013
Download the latest version of RaidCall with the New Flower Plug-in here: http://www.raidcall.com/v7/download-raidcall.html.
RaidCall Version 7.3.0 Is Officially Released!
The new version has improved the following aspects:
Fixed Facebook connection
Improved registration process
Fixed and improved Overlay
Optimize certain functions and fix some bugs.
However, the highlight feature of this new version is the new Flower Plug-in. The new Flower Plug-in will allow the users to send flowers to the each other when they're using the queued mode in a group.
The amount of flowers that the user can acquire is based on the level of user account. The higher the account level, the more flowers the user can have.
This feature increased the activity of groups in RaidCall, also increase the interaction between users. With the flowers plug-in, RaidCall has made another big step in social gaming.