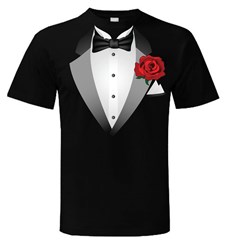 "We have dozens of fancy dress t-shirts for all occasions" said company director, Andy Wilson
(PRWEB UK) 14 November 2013
A lot of excitement has been generated about the addition of many new fancy dress t shirt designs to their fancy dress section, all of them available for printing onto t shirts & other clothing items & accessories right now.
They found that many of their customers are a sociable lot, demanding t shirts for wearing on their fancy dress bashes. This increased demand, as the summer kicks in, had led them to broaden the range of available designs to suit this demand for t shirts & other clothing items.
At Tribal T-shirts they love the 70s and the 60s so that's why they've got these covered with new designs promoting these great eras. They have also included a great range of 1980s slogan-designs inspired by Frankie Goes to Hollywood & Wham's Choose Life t shirt. And fast forward into the 1990s they've introduced the winking smiley face, especially stunning as part of their neon range.
Yes, lots of goth-inspired fancy dress designs are ready for printing onto t shirts or other clothing items. For Halloween they have several bloodthirsty designs for the discerning night creature; designs like the lips & fangs motif best served on a black- as- night t shirt, or the spattered-blood design suited to a pure-white t shirt. If you're going to a gothic-themed fancy dress party. They have also added vampire, Halloween pumpkin, skeleton ribcage, zombie & werewolf-designs.
Or perhaps it's a pirate-theme? In which case, check out our skull n' crossbones emblem. something a little less grisly & a little more comical, have a look at our smoking/drinking baby design. They also now have the tuxedo t shirt design ready for print. Nearly all designs are also available on long-sleeve shirts, neon t shirts, hoodies, sweatshirts & bags.
New design-ideas for fancy dress now available at Tribal T-Shirts.