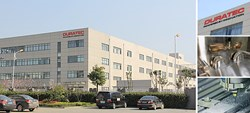 (PRWEB) November 09, 2013
Today, the popular plastic injection molding company, DuratecPlastics.com, has announced its big promotion of plastic designs. Based on a senior spokesman of the company, the promotion is valid until Nov. 30, 2013. All its plastic designs are available at discounted prices online, up to 32% off.
The spokesman says, "We are very excited to launch the promotion. By offering high quality products at low rates again, we want to facilitate the life of our customers. We are one of the leading suppliers in the industry. We know what our customers actually need. We will always make every effort to offer cost-effective products and never let our clients down."
"The promotion is a great opportunity for all our current and prospective clients. Please note that it is valid until Nov. 30, 2013. If you want cheap injection molding items, visit our website as soon as possible." He adds.
The plastic designs offered by DuratecPlastics.com include many kinds of wonderful products, such as electronic parts, injection plastics, safety plastic parts, plastic gears by injection and so on. Each of them is created according to the needs of clients from around the world. What's more, custom made items are available at the company's online shop. All customers can get custom items without extra costs.
About DuratecPlastics.com
DuratecPlastics.com is the website owned by Duratec Industries Ltd. that specializes in plastic injection molding and plastic product assembly. The company is located in Suzhou, a major tour city in China. The company owns a modern manufacturing and warehousing facility as large as over 12,000 square meters.
More details at http://www.duratecplastics.com/.