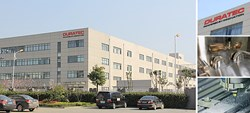 (PRWEB) November 10, 2013
Today, DuratecPlastics.com, the distinguished injection moulding factory, has unveiled its new collection of plastic moulds for electronic parts. Based on the CEO of the company, all these new items are offered at discounted rates, up to 36% off.
"We feel very excited to release our new products to customers from around the world. As one of the world's leading companies in the industry, we are qualified to provide top quality items at compatible prices. We have our own design team and plenty of advanced machines like CNC, EDM and wire cutting tools. Welcome to our factory, everyone." Steven, CEO of the company, states.
"By the way, the special offer will last for a week only," He adds, "Please visit our website as soon as possible, or else you will miss the good chance to get cheap high quality plastic moulds for electronic parts."
DuratecPlastics.com is a renowned manufacturer of plastic injection moulding products. It has a lot of plastic parts in stock. Its customers include companies and mould distributors from all over the world. In addition to the finished products, DuratecPlastics.com offers custom items without extra costs. The company aims to win more customers by providing top quality products, fast delivery and friendly customer services.
About DuratecPlastics.com
DuratecPlastics.com is the online shop owned by Duratec Industries Ltd. that specializes in plastic injection moulding and plastic product assembly. The business is located in Suzhou, which is a major tourist city in China and is considered as beautiful as the paradise. The company owns a modern manufacturing and warehousing facility as large as over 12,000 square meters.
More details at http://www.duratecplastics.com/.