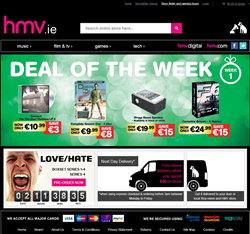 We are delighted to create an ecommerce website that will place the brand in a strong position for the future.
(PRWEB UK) 11 November 2013
iWeb Solutions, an Ecommerce Web Development & Design Agency, has launched a new website for entertainment retailer HMV in the Republic of Ireland. The Stafford-based web design company has a track record in the Irish home entertainment market, having designed and built a successful ecommerce website for the country's multi-media giants, Xtra-vision.
When HMV was bought in April by Hilco UK – which also owns Xtra-Vision – iWeb Solutions were the first choice to deliver a similar solution. The new website has been built with the popular ecommerce platform, Magento, and makes extensive use of its Multi-Store functionality. This enables multiple browse-able Store Views to be created, whilst the catalogue and inventory remain the same for all.
The front end design (the shop front) can be altered for a specific audience without affecting the core information of what's in stock. This makes it possible to switch between languages and currencies, if required. The website is also integrated with their back office and West 10 Entertainment, which offers information-rich data on all new home entertainment releases for HMV customers.
Nick Pinson, Managing Director at iWeb Solutions, said: "We have long running success of helping ecommerce businesses to grow and develop according to the needs of their customers. The struggle HMV has experienced in recent times due to the recession is unfortunate, but we are delighted to be the one to help the brand bounce back by creating an ecommerce website that will place the brand in a strong position for the future."
iWeb Solutions has ensured that the new website is fully optimised for mobile and tablet when browsing on the go, with the fully transactional website being perfect accompaniment for the in-store offerings.
With over 18 years in the web design business, iWeb Solutions has also recently completed websites for Halfords, Yuasa Batteries and the OX Group.
For more information, visit http://www.iwebsolutions.co.uk.