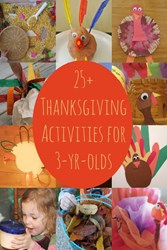 Let Thanksgiving come alive with these great tips from seasoned Moms.
Dallas, Texas (PRWEB) November 09, 2013
Thanksgiving is just around the corner. Get ready for fun thanksgiving activities for 3 year olds and a laundry list of DIY games released on Kids Activities Blog. The fall season is the perfect season for craft afternoons at home.
Let the season come alive with fun thanksgiving activities. The great ideas include making butter together with the little ones. They love to explore, touch, and of course help with the grand dinner preparations. Let them contribute with this easy butter recipe.
Making all kinds of turkey art out of handprints, coffee filters, toilet paper rolls, lollipops, M&Ms, pipe cleaners, and a paper bags will be treasured for years to come. Other cool ideas include making a gratitude tree, creating fun seasonal place mats, and teaching table manners and how to greet relatives.
The DIY game ideas include building a pinball machine. The kids will love to learn about angels and their positions to aim the ball to various directions. Farkle is another classic dice game that can be easily put together. It teaches essential math skills, too. Buying multiple sets of dice and placing them inside cute tins with instructions make great Christmas presents for relatives and friends.
Making a collection of mazes out of empty CD cases is another ingenious idea. All one needs are a few sticky sticks and tiny balls and ready is the miniature labyrinth perfect for a fun afternoon at home.
Making a tic tac toe board out of rocks, building a giant game board to play various classic childhood games, and creating a felt shape kit for endless imaginary play are only a few of the many tips this week.
For detailed instructions and to get additional Thanksgiving tips, check out Kids Activities Blog this week. Come get inspired to spend meaningful time with the kids this season.
About Kids Activities Blog
Kids Activities Blog is a website created by two moms (who collectively have 9 children), Rachel Miller and Holly Homer from June Cleaver Nirvana. It is their daily goal to inspire parents and teachers to play with kids. This interactive website publishes simple things to do with kids twice a day. Kids Activities Blog is a great tool for moms and teachers to find kid-friendly activities that create memories and sneak learning into the fun.