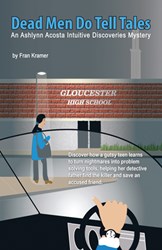 Honolulu, Hawaii (PRWEB) November 10, 2013
In a society where answers are only a click away, young people aren't often encouraged to rely on their own knowledge, judgment and intuition, which could be detrimental to their overall growth.
"Dead Men Do Tell Tales" by Fran Kramer follows the story a spunky teenager, Ashlynn Acosta, who is caught in the middle of a murder mystery while adjusting to the unfamiliar landscape of high school. When her close friend is implicated as the prime suspect, Acosta must jump into action by following her gut and inner resources in order to prove her friend's innocence.
Not only will young readers be entertained by this fascinating read, but they will also explore situations calling for intuitive knowledge and response through Acosta's journey. Kramer emphasizes the importance of how intuitive abilities can be used to approach and solve a problem.
"These skills will help teens and young adults to gain a deeper sense of who they are as individuals and what they stand for," Kramer said. "In turn, these teens will be less likely to be negatively influenced or prejudiced by their peers."
Dead Men Do Tell Tales
By Fran Kramer
ISBN: 978-1-45258-002-9
Softcover retail price: $13.99
E-book price: $3.99
About the author
Fran Kramer holds a MA in Asian Studies (Religion & Philosophy) and is an Intuitive Heart™ Trainer, certified by the Edgar Cayce Institute for Intuitive Studies. She is a member of the International Association for the Study of Dreams (IASD). With over 35 years of dreamwork experience, Ms. Kramer teaches about dreams and intuition at college, medical, church and community venues. She runs The Healing Dream Garden, LLC, where she explores the connections of dreams and intuition to energy and health with students and clients. She lives in Hawaii, sharing aloha among many culturally diverse friends and three cats.
Available at http://www.amazon.com, http://www.bn.com, and http://www.balboapress.com.