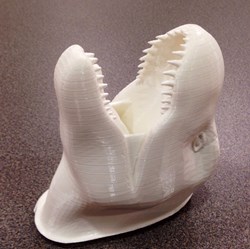 Willoughby, OH (PRWEB) November 09, 2013
As part of Andrews Osborne Academy's (AOA) commitment to providing students with an exceptional education, AOA recently purchased a 3D printer for use in all of AOA's Science, Technology, Engineering, and Mathematics (STEM) classes. 3D printing, also known as additive manufacturing, uses computer assisted design (CAD) programs to create a three-dimensional model that is constructed layer-by-layer to make an actual solid object; this object can actually be picked up and handled by the user. The additive manufacturing technology is currently being used in most professional industries with an almost unlimited future of applications.
The process of 3D printing begins when a user creates a three dimensional model using a CAD program. Once the computer design has been created, the user uploads the file into Cubify's proprietary software that converts the CAD file into a file recognized by the CubeX Duo Printer. During this stage, the user determines the details of the object including color, thickness and print resolution. Finally, the file is transferred to the printer, where the data is read and a three dimensional object is produced.
The maximum build size is 10.75" X 10.75" X 9.5", which is about the size of a fully inflated basketball. The CubeX Duo also allows users to print in two different colors simultaneously. The resolution of each layer of plastic is about 0.200 mm, on a high-detailed print. The average print time depends on the size and detail of the object, but ranges from a few hours to a couple of days.
There are already many plans to incorporate 3D printing into the STEM curriculum at AOA at all grade levels. The Upper School robotics course plans to create scale models of its designs before metal fabrication begins, while the Lower School students are going to create wind turbine blades to investigate design efficiency. All of these activities serve to enhance AOA's strong academic curriculum.
Andrews Osborne Academy (AOA) is an independent, college preparatory day (grades Pre-Kindergarten through 12th) and boarding (7-12) school near Cleveland, on a beautiful 300 acre campus located in Willoughby, Ohio. Our Academy offers elementary, middle and secondary education to committed students in a multicultural setting. Enrollment opportunities for the 2013-14 school year are available. Contact the Office of Admission to arrange a tour at 440-942-3600 or visit our website at http://www.andrewsosborne.org.