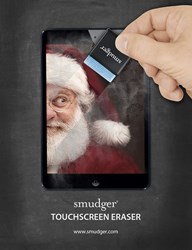 I loved giving Smudger® as a gift to my family and co-workers for Christmas last year. It is a cool gadget with sophisticated packaging and everyone loved it. - Shelly Calvert, a development director
(PRWEB) November 18, 2013
The Smudger® Touchscreen Eraser™, which is a pocket-sized gadget that cleans fingerprints and smudges from touch screens, is the perfect gift to pair with this year's iPads, iPhones, Galaxy Notes, Kindle Fires and other tablets and smartphones that will be under countless Christmas trees. As many smartphone and tablet users know all too well, fingerprints and smudges can get in the way of web browsing, using apps, watching movies and viewing photos. Everything looks best on a shiny, brand-new screen. Since touch screens don't stay clean for long, the pocket-sized Smudger® Touchscreen Eraser™ is the best way to keep a clean screen all the time. "I loved giving Smudger® as a gift to my family and co-workers for Christmas last year," said Shelly Calvert, a development director. "It is a cool gadget with sophisticated packaging and everyone loved it."
Developed by graphic designer and avid touchscreen user, Kevin Smith, the Smudger® Touchscreen Eraser™ was created so he could quickly and easily keep all of his touch screens like-new again.
"It all began with a few fingerprints and smudges on my touch screens," Smith says. "I wanted to share a new photo of my wife and daughters with a friend and got discouraged with the smudge-covered view." This frustration led Smith to design a solution, and that's how the Smudger® Touchscreen Eraser™ became a reality.
With just a few quick swipes of the wiping blade, the user has a clean screen. Deep ridges have been woven into the fabric of the wiping blade to remove fingerprints and smudges from any touchscreen with precision and ease. It even reaches those hard to clean edges and crevices.
The Smudger® Touchscreen Eraser™ is available now for $12.95 each or buy 2 for $20.00 with free shipping! For more information or to purchase, please visit http://www.smudger.com.