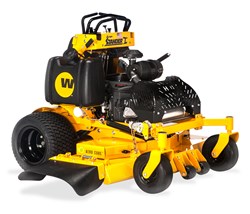 Frederick, MD (PRWEB) November 19, 2013
Wright Manufacturing, the company that invented the stand-on mower, has introduced a new, compact Stander®.
The Stander Intensity, to be known as the Stander I, is equipped with the first 36" deck to incorporate Wright's revolutionary AERO CORE™ technology. Operators will appreciate the deck's improved airflow, cut quality and anti-blow out features.
The floating deck on the Stander I tilts side-to-side and front-to-back allowing the mower deck to better follow the terrain contours. It also improves the weight distribution for better handling on hills. This flotation feature is similar to that found on the Stander I's bigger brothers, the Stander X and ZK.
The rugged Stander I is also built for operator comfort. The floating standing platform absorbs rough terrain through elastopolymer bumpers that provide a dampened feel similar to a car. The bumpers are progressive to accommodate various weight operators. The control panel looks like the Stander X panel. Its wide stance provides greater control and its forward slant makes the controls more ergonomic.
For contractors who want the Stander I great handling features but need a larger deck, the new mower will be available with a 48" or 52" deck as well as the 36" deck. Engines range from 18.5 to 22 HP.
Call 301.360.9810 or visit http://www.wrightmfg.com for the name of your nearest dealer. Wright Manufacturing is headquartered at 4600X Wedgewood Blvd., Frederick MD 21703. The company's fax number is 301.360.9820.