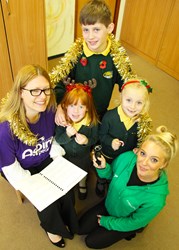 Birmingham UK (PRWEB UK) 11 November 2013
A Sutton Coldfield-based education recruitment agency is helping transform local school choirs into singing stars this Christmas.
Aspire People, based in Gracechurch Shopping Centre, is supporting a competition that gives schools a chance to sing their favourite festive song on the radio.
Pupils from Mere Green Primary School's choir are hoping their rendition of the Christmas classic 'Santa Claus is coming to town' will help them become one of Free Radio's Christmas Stars.
The competition, which is sponsored in Birmingham by Aspire People, will see ten schools battle it out to be crowned this year's Christmas Star choir. The winning school will not only have its song played on air to an audience of more than 350,000, it will also be given the opportunity to perform live in front of hundreds of people in the city.
Michaela Powell, director at Aspire People, visited Mere Green Primary School to see the choir in action as pupils sang their chosen Christmas audition live for Free Radio. The choir's song will be put to the public for voting from 18th November.
Speaking of the performance, Michaela said: "I was overwhelmed by the huge amount of effort that the school choir has gone to. The song had everybody in the room up on their feet, dancing and clapping along. I could tell the pupils were really enthused and excited to be involved in the Christmas Stars competition."
The school choir, which is made up of 25 pupils aged between five and ten-years-old, has been practising its song choice for two months, with the school's music coordinator, Chris Watts, preparing the backing track.
Ten-year-old Bradley Caine, who opens the performance with a solo, said: "We're really excited to be played on the radio and hope we get to perform our song in front of lots of people. Our music teacher Mr Watts let us pick the song and we've been giving up our lunchtimes to practise but we don't mind because we really want to win!"
To listen to and vote for Mere Green Primary School's entry visit http://www.freeradio.co.uk/christmas-stars
Aspire People help local people find supply teaching jobs and permanent teaching jobs across the Midlands.