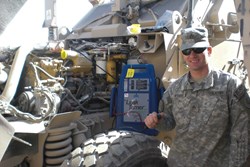 It started as a simple gesture by OTC and Champion Engineering: donate a smoke machine to an Army soldier stationed in Afghanistan.....
Huntington Beach, CA (PRWEB) November 11, 2013
It started as a simple gesture by OTC and Champion Engineering: donate a Leak Tamer smoke machine to an Army soldier stationed in Afghanistan to help keep the engines on military vehicles running smoothly and save money on engine overhauls. United States Staff Sgt. Daniel Wieman received the machine and as shop foreman for his unit at Kandahar Air Base, put it quickly to work checking for leaks between the filter and engine. Little did anyone know that Wieman's automotive experience and use of the smoke machine in Afghanistan would eventually lead him to pursue a degree in automotive engineering at Minnesota State University in Mankato, Minn.
While serving in Afghanistan from 2010 to 2011, Wieman often talked via telephone to his father, Carl Wieman, about ways to keep sand and dirt out of the military vehicles' engines. Carl Wieman, a senior aftermarket technical support specialist for Bosch Automotive Service Solutions, the new owner of OTC, and the team at Champion Engineering, orchestrated the plan to donate the smoke machine to help Wieman. Before shipping it, he arranged for many employees of both companies to cover the equipment's housing with "Thank You for Serving Our Country" signatures.
While in Afghanistan, Wieman and his unit would hook the smoke machine up to the air intake and check for leaks between the filter and engine. Any leaks identified were then plugged to keep sand and dirt from getting into the engine, thereby keeping it running longer.
Wieman, who enlisted in the Army in 2001 and was first deployed to Iraq, has since returned home from Afghanistan and currently serves in the U.S. Army Reserves, 353 Trans CO., in Buffalo, Minn. He has already received a degree in automotive technology from Riverland Community College, Albert Lea, Minn., and is pursing a four-year degree in automotive engineering. He lives in Arlington, Minn., on a family farm owned by his grandparents and where his father was born and raised. Carl Wieman, who served in the U.S. Army and Reserves from 1972-1998, lives nearby in Owatonna, Minn., and the two stay in close contact.
"We're very happy Daniel is back safely. Even though I was in the military, the uncertainty in Afghanistan is very hard on families with loved ones serving in that part of the world," said Carl Wieman.
With Veteran's Day approaching, the two will sometimes honor the day with a meal together at a local restaurant. This year, Wieman plans to spend a weekend in Southern Illinois with five to eight friends from Minnesota, Kentucky, Wisconsin and Illinois who he served with in Iraq during his first deployment. As for Carl Wieman, he always looks forward to being part of the OTC Veteran's Day ceremony that includes taking of a photo of all veterans and giving them each time to talk about their military service.
As for the smoke machine, it was left behind in Afghanistan to help keep the engines running smoothly and the troops safe by not allowing dirt to get into the motor and cause it to stop during their travels away from home. Ultimately, it serves as a constant reminder to U.S. soldiers that their service is very much appreciated.
About OTC:
OTC, an ISO certified plant, is a major manufacturer and supplier of vehicle electronic diagnostic instruments, automotive fuel system maintenance equipment, special service tools, general purpose tools, pullers, heavy duty tools, shop equipment and hydraulic components. Located in Owatonna, Minnesota, OTC was founded in 1925, and in 1985 was acquired by the SPX Corporation, a multi-national company headquartered in Charlotte, North Carolina. Today, OTC is part of Bosch Automotive Service Solutions.
About Champion Engineering:
Champion Engineering, Inc. (Champion), utilizing patented, licensed Diagnostic Smoke® Technology from STAR EnviroTech, Inc. (STAR), has manufactured its leak detection products for 13 years exclusively for SPX Corporation. The SPX-Champion collaboration has resulted in more OEM approvals and mandates of their leak detection equipment than all other leak detection companies combined. In the same OEM sector, it can also boast the largest leak detection distribution system in the world, supplying 41 countries with their equipment mandated by major OEMs, as well as the largest Aftermarket distribution system.
About STAR:
STAR, inventor and licensor of Diagnostic Smoke®, is known for its safer leak testing methods by being able to use an inert gas to create the smoke vapor when testing fuel evaporative (EVAP) systems. That prevents the introduction of oxygen when using compressed air, which can easily create an unsafe flammable fuel mixture inside the fuel tank. It simply increases safety and lowers liability, whilst enjoying the best diagnostic leak detection methods invented. All of which is why virtually every OEM in the world requires using STAR's Diagnostic Smoke® Technology. STAR is also the inventor of the non-contaminating dye trace that marks the exact leak spot. Very effective, since you cannot always find all leaks with smoke alone, especially in higher pressure applications. STAR licenses its patented technologies to key partners in several industries including; automotive, light / heavy industrial, marine, aviation and to the military. The Company is headquartered in Huntington Beach, California and has distribution partners worldwide.
# # #
Editor: For more information, photos or interviews contact Phil Sasso 847.451.2246 or phil(at)prnewsbureau(dot)com.