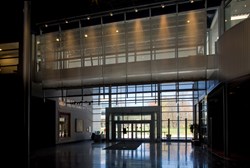 "Cambridge's sleek material is functional while performing as the perfect aesthetic detail." - Will Jovel, Principal at Design Collective, Inc. and project architect.
Cambridge, Maryland (PRWEB) November 12, 2013
Readily recyclable and manufactured from recycled materials, Cambridge Architectural stainless steel mesh systems provide a large-scale streamlined look that makes an elegant statement inside the Horowitz Visual and Performing Arts Center at Howard Community College.
The perpendicular mesh panels strikingly welcome students, faculty and guests into the Horowitz Center, home to three performance venues, two art galleries, two dance studios and multiple instructional facilities. Offering function and aesthetic, the inherent nature of the mesh panels allows it to cut down on harsh sunlight and only permit quality natural light to pass through, ultimately improving the performance of building occupants. Furthermore, the dramatically reduced solar heat gain offered by the Cambridge system cuts cooling costs for the facility.
"Our custom mesh system serves as a symbol of creative design, perfectly representing the Horowitz Visual and Performing Arts Center," says Heather Collins, Director of Marketing for Cambridge Architectural. "This project really showcases the unique ability of architectural mesh to meet design and function needs simultaneously."
Cambridge's flexible metal fabric panels were specifically engineered to ensure an issue-free installation of this interior space. Its lightweight composition requires minimal structural support. Cambridge mesh is 100% recyclable and virtually indestructible, outlasting most other materials in durability. Cambridge Architectural is an active member of the USGBC®.
"We were looking for a material that was somewhat transparent to act as a scrim element to soften harsh sunlight in the lobby of the Horowitz Arts Center but also to add interest, creating an illusion of walls and lighting in a theatrical context," said Will Jovel, Principal at Design Collective, Inc, project architect. "Cambridge's sleek material is functional while performing as the perfect aesthetic detail."
Metal fabric in Cambridge's Slink pattern was used to fabricate the systems. Slink features flexible, open weaves that resemble jewelry chains and can be installed as window treatments, virtual space dividers or as dynamic design elements with track hardware.
"The mesh brought a dynamic quality to the lobby lending perfectly to the center's avant-garde design," says Ken Kolb of Riparius Construction, Inc. construction manager of the project. "Cambridge was very helpful in developing the design of the system."
For more information, please contact Cambridge Architectural at 410-228-3000, by email cachey(at)cambridge-intl(dot)com or visit the Cambridge Architectural website at http://www.cambridgearchitectural.com.
About Cambridge Architectural
Cambridge Architectural is the only full-service provider that sees a design through to ribbon-cutting. As the world leader in tensioned mesh systems, Cambridge Architectural metal fabric solutions lend unique aesthetic appeal, functionality, affordability and sustainable benefits to parking structures. As exterior cladding for parking garages, Cambridge applications provide ventilation, fall protection, visibility, headlight attenuation, safety, security and many additional functional benefits. Cambridge offers a full range of sustainable metal mesh solutions, providing full system design, engineering, and installation services, in the most challenging building environments and under the strictest budgets. Visit CambridgeArchitectural.com to experience Cambridge's abilities.