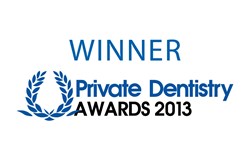 A very well-considered and sophisticated marketing campaign focusing primarily, but not exclusively, on internet projects
(PRWEB UK) 11 November 2013
Award-winning digital marketing agency, Return on Digital, have helped a leading dental practice win the Best Marketing honour at the 2013 Private Dentistry Awards.
Cherrybank Dental Spa have been working with the Manchester-based agency for two years and Business Development Director, of Cherrybank, Steve Philip, has said to be "delighted" with the win – particularly as the marketing activity brought in £19 for every £1 spent on the project.
Guy Levine, CEO at Return on Digital said of the win:
"We have found working with Steve has produced a rewarding partnership. Thanks to great communication and a true drive to move things forward, Steve has always been open to trialling new ideas in this industry, meaning we can push the digital marketing to drive positive results."
The judges said of Cherrybank Dental Spa:
"In a very well-considered and sophisticated marketing campaign focusing primarily, but not exclusively, on internet projects, this group of two practices has carefully targeted specific patient demographics to superb effect.
"Sophisticated tracking of clients, visits to its website and monitoring of results from various campaigns has resulted in a cost-effective use of budget to best effect. Particularly impressive was the close supervision and technical mastery of the media used, which specifically impacted on the judges' decision.
"Although an already well-known and high profile practice, by not resting on its laurels, this organisation has shown that impressive growth is possible even in difficult economic conditions."
Return on Digital were able to recommend and implement call tracking into the digital marketing strategy, resulting in Cherrybank Dental Spa making a monthly saving of £300 through Pay Per Click thanks to clearer referral data. In addition to their search engine optimisation and combined digital marketing plan, Return on Digital helped to streamline audience targeting in order to push budgets to give a maximum return on investment.
To see what return on digital your business can achieve, contact the team on 0845 86 22 122 or visit http://www.returnondigital.com