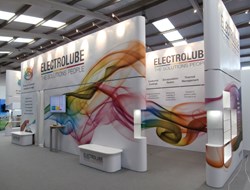 The fully-managed aspect of our Free-Hire offer gives companies the freedom to exhibit whenever they like, without being tied into a contract or commitment. It's a great offer, and for companies that repeat exhibit it reduces costs significantly.
Poole, Dorset (PRWEB UK) 13 November 2013
Leading Exhibition Stand designers and builders, Quadrant2Design, have just produced one of their biggest Exhibition Stands to date using their modular solution, the Prestige Events System, proving that large Modular Exhibition Stands are not only possible but are also a cost-effective option for large stand spaces.
The stand itself is for corporate client HK Wentworth, and went to Productronica in Munich November 12-15th 2013. It was the fourth stand that Quadrant2Design have designed and built for HK Wentworth, including others for the Gadget Show and Paperworld in Munich, and was their largest Prestige Exhibition Stand to date.
HK Wentworth opted for Quadrant2Design's unique Prestige System as they required a stand that not only had great visual impact, but was also re-usable. One of the unique and brilliant aspects of the Prestige System is its re-usablity. This particular stand for HK Wentworth was designed in such a way that it can be re-configured into alternate configurations and split into various other stands for use at other events, making it not only a solid investment but also helps save the client money when exhibiting in future.
HK Wentworth joins a long list of long-standing customers such as Pfizer, BMT Group, and Harlands Group who use the Prestige Events System for all their live-marketing events. The Free-Hire option that Quadrant2Design offers allows clients to hire the skeletal framework of the Prestige System for free, while only paying competitive costs for their exhibition graphics and professional installation. For clients that repeat exhibit, this is an ideal solution as Free-Hire provides them with flexibility at a significantly lower cost than other Exhibition Stand companies. As well as this, because no contract or commitments are involved, internationally based companies have the freedom to use Free-Hire as and when it suits them.
Chloe Anderton, Design Director at Quadrant2Design, said: "We've worked with HK Wentworth for over a year on a number of different projects. They particularly like the fully managed aspect of our Free-Hire offer, as it gives them freedom to exhibit all over the world, and this latest stand at Productronica in Munich is a great example of that."
Quadrant2Design design and build exhibition stands throughout the United Kingdom and Europe, using their exclusive Prestige Events System. The company employs 29 people, has all key functions in-house, and has a fourteen year history of successful projects across the globe.
To learn more about the company visit: http://www.prestige-system.com/ or contact Design Director, Chloe Anderton at: designteam(at)quadrant2design(dot)com.