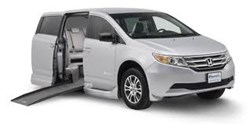 Addison, Texas (PRWEB) November 08, 2013
HASCO Medical, Inc. (OTCBB: HASC), a company that sells handicap accessible vans, parts, service, and rentals in 18 locations from Maine to Florida, announces new television campaigns aimed at heightening awareness of wheelchair accessible transportation options to the growing senior market.
With the help of BraunAbility, HASCO Medical's Central Florida locations are showing three TV commercials focusing on educating people about the BraunAbility transportation options that are available to people with limited mobility.
The commercials are currently running in the areas surrounding our Mobility Freedom stores in Orlando, Clermont, Bunnell and Ocala, FL and will soon cover the areas that surround our Ride-Away stores in Tampa, FL and Washington D.C. Virginia stores in Beltsville, MD and Richmond, VA.
The hub of this campaign is located at http://www.mobilityvan.com where visitors can watch the commercials, find convenient locations to inquire about mobility vehicles, and register to win a scooter through the duration of the campaign.
"Through this campaign we hope to help educate the growing baby-boomer population about wheelchair accessible transportation options. This will help them make better informed decisions as needs change," said Hal Compton, CEO of HASCO Medical. "We also expect this to help increase fourth quarter sales and trade ins on modified vehicles."
Recently, Ride-Away, a subsidiary of HASCO Medical, was featured on the New Hampshire Chronicle on WMUR 9 New Hampshire. In the special, General Manager Ron Hoy discussed Ride-Away's commitment to customers and dedication to providing exceptional customer service with high quality products.
The Ride-Away New Hampshire location is one of the highest volume wheelchair vehicle locations in the United States. The video of the broadcast can be seen on HASCO Medical's website. The company is proud of the recognition that the local television station has given to the Londonderry location.
About HASCO Medical, Inc.
HASCO Medical provides products and services that dramatically improve the quality of living for its customers. The Company consists of Ride-Away, Auto Mobility Sales, Mobility Freedom and Wheelchair Vans of America on the Van Conversion/Rental side of the company and Certified Medical on the durable medical equipment side.
This press release may contain forward-looking statements, which are made pursuant to the safe harbor provisions of the Private Securities Litigation Reform Act of 1995. In some cases you can identify those so-called "forward looking statements" by words such as "may," "will," "should," "expects," "plans," "targets," "believes," "anticipates," "estimates," "predicts," "potential," or "continue" or the negative of those words and other comparable words. These forward looking statements are subject to risks and uncertainties, product tests, commercialization risks, availability of financing and results of financing efforts that could cause actual results to differ materially from historical results or those anticipated. Further information regarding these and other risks is described from time to time in the Company's filings with the SEC, which are available on its website at: http://www.sec.gov. We assume no obligation to update or alter our forward-looking statements made in this release or in any periodic report filed by us under the Securities Exchange Act of 1934 or any other document, whether as a result of new information, future events or otherwise, except as otherwise required by applicable federal securities laws.