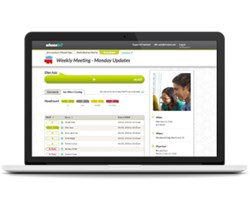 Our consistent forty percent monthly growth is largely attributable to sports teams, clubs, businesses, charities and churches
Toronto, ONTARIO (PRWEB) November 26, 2013
Thinkpuddle Inc., a startup company focused on high-demand technology solutions, has updated its fresh and innovative RSVP web application, "Whoozin" (pronounced "who's in"). Just one year after its initial launch, Whoozin has incorporated the feedback from tens of thousands of users and has today released a major upgrade of Whoozin to further solidify its position as the internet's best free RSVP website.
"Our consistent forty percent monthly growth is largely attributable to sports teams, clubs, businesses, charities and churches taking advantage of the 'group with recurring events' features of Whoozin", said Mitchell Brown, Thinkpuddle's CEO. "Recurring group events represent a very large market, and Whoozin is the only optimized solution out there."
While other invitation applications, such as Evite and Facebook Events, serve the party-centric crowd, Whoozin not only caters to this "one-off event" marketplace but is unmatched when it comes to managing attendance tracking for groups with recurring games, meeting or events. Whoozin's group event functionality is further complemented with highly responsive customer support.
In addition to the conventional "invitation-and-RSVP" approach, Whoozin's latest major feature gives the event organizer the ability to set up an event so that anyone interested can follow a link to a sign-up or "registration" page.
Whoozin provides a simplified approach to RSVP tracking for events and is optimized for groups who meet on a regular basis. Whoozin is free, simple to use and contains no ads.
For more information, please contact: info(at)whoozin(dot)com.