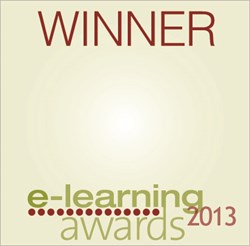 Windsor (PRWEB UK) 9 November 2013
The award recognises Growth Engineering's innovative, radical approach to online learning and the exceptional results that have been achieved as a direct result of their ethos – learning should be fun!
In addition to the huge return on investment Growth Engineering have secured for their clients, they were also hailed for their customer retention and the extent to which their customers were expanding their eLearning programmes with Growth Engineering year on year.
The award was presented to Juliette Denny, Managing Director, and the very excited, finely coiffed team at the E-Learning Awards Gala Evening at the London Marriott on 7th November.
Growth Engineering's aim is to help their customers be the best they can possibly be, and the benefit that the company's transformative approach has had for their clients was recognised last night, with the award celebrating the way in which Growth Engineering have been working fervently to battle against dull online learning.
Juliette said: "Wow! We're over the moon to have won this award. We've been working hard to shake up eLearning and it's fantastic to be recognised with this prestigious award."
This award follows Growth Engineering's recent success in receiving two Brandon Hall Gold awards for Best Use of Learning and Talent Technologies – in conjunction with Spicers – and Best Program for Sales Training and Performance, which was awarded for their success with Aggregate Industries.
As the loudest, most passionate voice in the eLearning industry, Growth Engineering were delighted to have their achievements recognised and they are pleased to share all the honours with their clients.
Juliette added: "We've got so many exciting plans for the future – like our upcoming Authoring Tool, Genie, and our rapid international expansion, with offices and clients in other countries – and we won't stop until the world realises that eLearning doesn't have to be dull and boring. We're going to war and we're fully armed!"
About: Growth Engineering are the arch-enemies of dull online learning. We work towards challenging every preconceived notion of eLearning to establish a new and refreshing experience for learners. We aid and inspire learning by creating innovative learning designs and using modern technologies. Our gamified Academy Platform and game-based learning creates all-new levels of engagement and we also offer a library of Ofqual-recognised qualifications to help our learners pump rocket fuel into their professional development. In short, we want to make your learning journey as easy and rewarding as possible.
Contact: For more details, please contact: harry(dot)cloke(at)growthengineering(dot)co(dot)uk or phone our offices at 01753 840 331.
Website address: http://www.growthengineering.co.uk