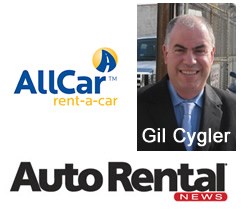 It's a great honor and privilege to be asked to join this prestigious board.
Brooklyn New York (PRWEB) November 12, 2013
Gil Cygler, President and CEO of leading New York independent car rental agency, AllCar Rent-A-Car announced this morning that he will be joining the Editorial Board of Auto Rental News later this month. Recognized as one of the top online and offline publications in the North American auto rental industry, Auto Rental News is well known for its daily, in-depth editorial content.
"It's a great honor and privilege to be asked to join this prestigious board," says Cygler on the designation. "I've been a long-time reader and follower of Auto Rental News and am looking forward to providing my editorial input going forward."
Cygler will join a diverse group of rental experts when he takes on his official editorial duties at the Auto Rental News. Made up of members from different sectors of the industry, including corporate, franchise and independent locations, the Auto Rental News is focused primarily on agencies and businesses serving airport, local and replacement markets.
"We are delighted to have Gil join our magazine's Editorial Board," said Chris Brown, executive editor of Auto Rental News. "Gil is an active participant in this industry, from his position as an ACRA board member to his contributions to the Car Rental Show and the magazine."
Founded in 1988, Auto Rental News features stories addressing subjects like recruitment and training, sales and marketing, damage recovery, quality assurance, fleet management and maintenance. "Auto Rental News has long been a valuable resource for managers within all segments of the car rental industry – including myself," says Cygler. "When it comes to up-to-date information on shifting marketing conditions and technological improvements in the rental arena, Auto Rental News always has the inside scoop."
The President and Founder of AllCar Rent-A-Car, Cygler is also the CEO of Carpingo, a forward-thinking car sharing community that's based in Brooklyn. "It's an exciting time to be active in the rental space," remarks Cygler. "The amount of innovation and opportunity that's taking place is truly unprecedented."
For more information on AllCar Rent-A-Car visit http://www.allcarrentacar.com. Additional information on the Carpingo car share community can be found at http://www.carpingo.com.
About AllCar Rent-A-Car
AllCar Rent-A-Car is New York City's premiere rental company. With 12 locations throughout the five boroughs, AllCar is focused on providing the highest quality car rental experience in New York. Book your rental online at http://www.allcarrentacar.com.
About Auto Rental News
The Auto Rental News magazine is for owners and management of corporate and franchise operated locations of major car and truck rental companies, independent non-system operators, luxury and exotic car rental companies, replacement vehicle operators (including independent or dealer-affiliated) and major truck rental systems, who rent cars, trucks, and vans in the business and leisure markets. Visit them online at http://www.AutoRentalNews.com for more information.