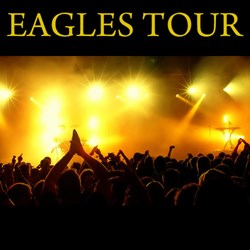 The Eagles Houston and Dallas concerts join 9 other Eagles shows with tickets releasing for public sale today including a second San Jose performance.
Houston, TX (PRWEB) November 09, 2013
The Eagles Houston and Dallas concerts join 9 other Eagles shows with tickets releasing for public sale today including a second San Jose performance. A major Eagles Tour stop comes up soon on the east coast. In November 2013 the Eagles New York City concerts at Madison Square Garden include three tour dates that ranked as some of the hottest tickets on the resale market for a while. On the west coast, the Eagles Inglewood Forum concerts doubles up even MSG with 6 tour dates January 2014.
The Eagles concert tour, known as the History Of The Eagles Tour, got underway in early July and continues through late March 2014 so far. Based on recent additions there may be even another set of new Eagles concert dates to come. Along the way, The Eagles play tour dates all over the United States and Canada. Band members participating in the History Of The Eagles Tour include Glenn Frey on vocals, guitars, keyboards, harmonica; Don Henley on vocals, drums, percussion, guitar; Joe Walsh on guitars, vocals, keyboards and Timothy B. Schmit on bass, vocals, acoustic guitar. With many calling this a final tour or farewell tour, fans drained the box office of tickets in many locations leaving sold out shows. For an idea of what songs you might hear on the concert, check out the Eagles Concert Set List from recent shows so far.
Concert dates for the Eagles Tour 2014 going on sale to buy today include:
SAP Center San Jose, California Friday 01/31/2014
MGM Grand Garden Arena Las Vegas, Nevada Saturday 02/15/2014
MGM Grand Garden Arena Las Vegas, Nevada Sunday 02/16/2014
American Airlines Center Dallas, Texas Wednesday 02/19/2014
Toyota Center - TX Houston, Texas Friday 02/21/2014
New Orleans Arena New Orleans, Louisiana Sunday 02/23/2014
Philips Arena Atlanta, Georgia Monday 02/24/2014
PNC Arena Raleigh, North Carolina Friday 02/28/2014
Verizon Center - DC Washington, District Of Columbia Saturday 03/01/2014
US Bank Arena Cincinnati, Ohio Monday 03/03/2014
Nationwide Arena Columbus, Ohio Wednesday 03/05/2014
See the EaglesConcertDates.com site for the full list with shows already on sale.
Music fans in Houston who want stay home rather than follow the Eagles tour around the country can buy tickets for Paul Simon And Sting, Beyonce Houston, Jay-Z, Cher and a Miley Cyrus concert. The Rockets NBA team serves as the primary Toyota Center tenant. Elsewhere in Houston fans can also buy Texans NFL and Astros MLB ticket or even Broadway touring shows at the Sarofim Hall - Hobby Center from Tickets-Cheapest.com online.
Tickets-Cheapest.com operates in the ticket resale market, similar to sites like StubHub, which concert fans may be familiar with, only with cheaper prices than other such sites. Often Tickets-Cheapest.com sells the exact same seats as other resale sites, and in an exact seat price comparison, Tickets-Cheapest.com proved its rights to the name by beating 25 out of 25 competitors for low-priced tickets. Give Tickets-Cheapest.com a try for great prices to see great performances. Check out Tickets-Cheapest.com for all ticket needs when looking for seats to sold out concerts. For the most popular shows they offer a large inventory of seats with costs less than other resellers with concert ticket prices cheaper than Stubhub including premium seats and floor tickets. This weekend marks a great time to think about a show with The Eagles Dallas concert, Houston and many other cities plus Billy Joel, Luke Bryan, George Strait, Jason Aldean as well as the new Paul Simon And Sting On Stage Together Tour all putting tour dates on sale for the public to buy between Friday and Tuesday.
About Financial Firebird, Eagles Concert Dates and Tickets Cheapest
The site to buy cheap tickets online, and its sister sites, including the site to purchase discount Broadway show tickets like Motown Broadway, all geared for the consumers looking for low prices, are affiliated with the Financial Firebird Corporation Travel Group, and stand among the top sites sought by travelers and people who enjoy concerts, pro sports and theater performances. Financial Firebird Corporation, established in 2000 and a proud BBB member, provides unbiased consumer information particularly involving personal unsecured debt or mortgages, software and marketing services. These sites for consumers to buy tickets online operate in the resale market and maintain no relationship with the venues or performers. The resale ticket market allows consumers access to popular events once the box office has sold out or to buy premium seats when the venue no longer offers any inventory. Within the group of these secondary market ticket services, the Financial Firebird owned ticket sites offer lower prices than competitors. Find the sites at EaglesConcertDates.com and Tickets-Cheapest.com.