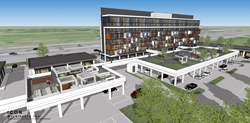 Bridging the gap between urban elegance and a lakefront lifestyle.
Grimsby, Ontario (PRWEB) November 11, 2013
In a bold move, LJM Developments recently unveiled the launch of its latest project, Waterview Condominiums in Grimsby, Ontario, Canada.
"Redefining urban living has become a mission for LJM. Our flagship water view project goes beyond the traditional architectural masterpiece and is poised to establish new benchmarks for other real estate developers to follow. We are perhaps the only building in Grimsby to offer live-work spaces, urban amenities, outdoor activities, shopping convenience, and picturesque water front views -- all in one package," says Liaquat Mian, CEO of LJM Developments.
Situated in one of Canada's fastest-growing community, the nine-storey building's revolutionary design embraces innovation as its core principle and is a pioneering, all-encompassing blend of modern elegance, urban convenience, and lakefront tranquility. Waterview layouts include studios, one- and two-bedroom units, and penthouse suites.
The development is in close proximity to Grimsby Beach, Beamer Memorial Conservation Area, Upper Beamer Falls, food and wine events, and other outdoor recreational activities (including kayaking and colorful beach cottages). An upcoming shoppers' paradise, is within the vicinity as well.
Furthermore, Waterview is closely connected to key urban centers, including Toronto and Hamilton, and intersects with major transportation nodes (QEW Highway and GO Station).
"Until I found Waterview, I was forced to choose either urban luxury or a tranquil lifestyle. This groundbreaking concept changes everything and allows me to effortlessly access both worlds. I have reviewed the designs; it is nothing short of an architectural miracle," says Verma, a potential buyer.
Hoordad Ghandehari of ICON Architects concurs: "The intent was to create an iconic building on a highly visible site from the QEW, which serves as the main artery to and from Niagara Falls. The main architectural elements and the contemporary facade design of the project stem mainly out of the logistics of the site."
"Since its inception, we have witnessed a double-digit surge in inquiries. From working professionals and young families to retirees, buyers from all walks of life are expressing interest in the development. The units are a perfect opportunity for homebuyers, businesses, and investors," explains Shaheryar, a senior executive with LJM Developments.
Through the unveiling of Waterview Condos, LJM may have just created the perfect Canadian Dream -- and the opportunity for individual buyers to own a piece of it.
About LJM Developments
With over a decade of unsurpassed excellence, LJM Developments is a recognized industry leader in real estate development. The company has developed highly-acclaimed signature projects that are a perfect synergy of world class architectural design and cutting-edge construction quality. The company has launched key initiatives in Southern Ontario, including Toronto, Burlington, and Grimsby.
For more information about the much-anticipated Waterview Condominiums or to initiate the registration process, please visit: waterviewcondominiums.ca
--------------------------------------
If you would like more information about this topic or need to make further press inquiries, please contact LJM Developments at 289-245-1900 or e-mail: info(at)ljmdevelopments(dot)ca