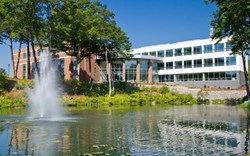 The ability to connect with current trends and changing needs, along with the agility to create programs to meet those needs, are key characteristics of Endicott's approach to education.
Beverly, MA (PRWEB) November 11, 2013
Endicott College is pleased to announce the dedication of the Curtis L. Gerrish School of Business, the Ginger '51 Judge Science Center, and the Colin and Erika Angle Center for Entrepreneurship, all located within the campus's newest building.
The dedication took place during Family Weekend and Homecoming on Saturday, October 5. The three centers, as well as specific rooms and areas within the building, were named in honor of alumni, trustees, friends, employees and families.
The $17 million Gerrish School of Business and Judge Science Center boasts a high-ceilinged atrium with a grand foyer overlooking the Endicott lakes, a 160-seat lecture hall, and a dynamic multi-use environment to stimulate faculty and student research and group project collaboration.
According to President Richard E. Wylie, "The ability to connect with current trends and changing needs, along with the agility to create programs to meet those needs, are key characteristics of Endicott's approach to education. The new Gerrish School of Business, Judge Science Center, and Angle Center for Entrepreneurship builds on our strong traditions while creating new opportunities for today and tomorrow. Endicott is incredibly fortunate to have the support of these individuals who are dedicated to improving the learning experience for our students."
Gerrish School of Business
Design of the Curtis L. Gerrish School of Business promotes Endicott's model of collaborative learning, which mirrors the interactive, innovative practices characteristic of today's corporate settings. The wing houses high-tech resources, state-of-the-art team building labs, interactive multimedia classrooms, and dedicated internship and career development support services.
The business center was named for Curtis L. Gerrish. He is CEO and founder of Rochester Electronics, the world's largest continuing source semiconductor manufacturer, which provides long-term support to government and commercial companies for critical components. He founded Rochester in 1981 after 20 years at Motorola. Rochester is a privately held and managed company. Located in Newburyport, MA, the company now owns and operates a campus of buildings with more than 300,000 square feet of office, test, manufacturing, and warehouse space.
Mr. Gerrish has also served as a trustee for Anna Jaques Hospital and Institution of Savings, both in Newburyport. He served as president of NAID (Newburyport Area Industrial Development) for several years and is currently a board member of the charitable foundation funded by the organization. Two of his granddaughters attend Endicott.
Mr. Gerrish resides in Newbury, Massachusetts.
Judge Science Center
The Ginger '51 Judge Science Center occupies one wing of the building, with classrooms for biology and microbiology, cell-molecular biology, anatomy and physiology, chemistry/ biochemistry, physical sciences, and environmental sciences, as well as dry and wet labs, prep rooms, workrooms, a small robotics lab and general research labs. It holds dedicated space for Computer Science and a STEM incubator lab.
Ginger Judge is the retired CEO of Honeycomb Company of America, Inc. in Sarasota, Florida, a manufacturer of replacement military parts for the Defense Logistics Agency. Prior to her retirement, she had been actively involved with the company since 1964, serving as office administrator, and senior vice president. Upon the death of her husband, Dan, in February 2005, she became president and CEO.
Ginger has shared in the Endicott story for more than 65 years as a student, alumna, volunteer and trustee. She graduated from Endicott in 1951 and joined the Board of Trustees in 1986 and is one of its longest serving members. An active volunteer and community leader, she was named Honorary Commander at MacDill Air Force Base in Tampa, Florida. She is a long-time volunteer leader with Easter Seals. She has worked with the Southern Manatee Fire Commission, the Suncoast Workforce Development Board, the Children's Guardian Fund Board and many other groups and organizations. In 2011 she received an Honorary Doctor of Humane Letters from Endicott College.
Ginger resides in Sarasota, Florida.
Angle Center for Entrepreneurship
The Colin and Erika Angle Center for Entrepreneurship will give students a unique experience – one that distinguishes Endicott in the world of entrepreneurial education. Symbolically located between the Gerrish School of Business and the Judge Science Center, the Angle Center will span both disciplines as it establishes bridges between academia and the business world. By partnering with business and science leaders, entrepreneurs, and experts, the center will promote a wide variety of opportunities, with plans to provide mentoring and advice to student and alumni ventures.
Colin Angle is the Chairman of the Board, Chief Executive Officer and Co-Founder of iRobot Corp, and one of the world's leading authorities on mobile robots. He was the commencement speaker and recipient of an Honorary Doctor of Humane Letters at Endicott's 2013 Graduation exercises.
An industry pioneer with more than two decades of experience and numerous professional awards, Mr. Angle co-founded iRobot in 1990. Before that, he was president of Artificial Creatures Inc and worked at MIT's Artificial Intelligence Laboratory. He has been named CEO of the Year by the Mass Technology Leadership Council, a Mass High Tech All-Star, one of Fortune Small Business' Best Bosses and New England Entrepreneur of the Year by Ernst and Young (with iRobot co-founder Helen Greiner). Angle has appeared as an industry expert on CNN, CNBC, Business Week, CNET, the New York Times and Newsweek. He is active on the Robotics & Intelligent Machines (RIM) advisory board.
Mr. Angle holds a bachelor's degree in electrical engineering and a master's degree in computer science, both from MIT. His master thesis produced Genghis, a six-legged autonomous walking robot that now resides at the Smithsonian National Air and Science Museum in Washington, D.C.
Dr. Erika Ebbel Angle is the CEO and co-founder of Counterpoint Health Solutions, a biotechnology start-up company aimed at discovering unique early prediction, disease progression, and therapeutic biomarkers in neurodegenerative and cardiovascular diseases. In 2002, she founded Science from Scientists, a nonprofit organization based in Boston that sends scientists into classrooms to give lectures and to perform laboratory work. Dr. Angle earned her Ph.D. in Biochemistry from Boston University School of Medicine in 2012 and she graduated in 2004 from the Massachusetts Institute of Technology, where she majored in Chemistry and minored in music. At MIT she was involved in virology, analytical chemistry, and molecular biology research.
Dr. Angle served on the Massachusetts Commission on the Status of Women, she was chosen Miss Massachusetts in 2004 as part of the Miss America scholarship program, she was named one of Boston's Ten Outstanding Young Leaders in 2013, and she is an Endicott trustee. She has been featured on Lifetime Television and Nova Science Now on "The Secret Lives of Scientists and Engineers," and she is the host of The Dr. Erika Show, an educational television program for children.
The Angles reside in Beverly, Massachusetts.
The building housing these three centers was built by Windover Construction from Manchester-by-the-Sea and designed by Tsoi/Kobus and Associates from Cambridge.
About Endicott College
Located in Beverly, Massachusetts on 235 acres of oceanfront property, Endicott College offers doctorate, Master's and Bachelor degree programs in the professional and liberal arts. Founded in 1939, Endicott provides an education built upon a combination of theory and practice, which is tested through internships and work experience. Studying at the Beverly campus, regionally, and internationally are approximately 2,400 undergraduate and more than 2,600 adult and graduate students. For more information, visit http://www.endicott.edu.