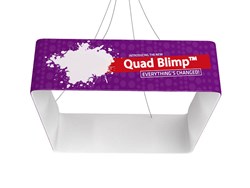 These displays are a fantastic way to get an exhibitor's brand noticed from all over a trade show floor, at an industry-leading price point.
Grayslake, Illinois (PRWEB) November 12, 2013
APG Exhibits, a premier online provider of trade show signage and marketing materials, has recently completed a massive overhaul of its hanging trade show display collection, and the new-and-improved models will be available at prices up to 50% lower than their older counterparts. APG has partnered with a new manufacturing location that is able to support APG's commitment of providing industry-leading quality at incredibly low prices.
APG Exhibits President Matt Baron said of the switch, "We felt that we were not being competitive enough in this market segment, and so we searched high-and-low for a way to provide these dynamic hanging displays at a price point that would put us above and beyond any other online signage retailer."
The new hanging displays have internal frames that are made up of lightweight, snap-together aluminum tubing. Over the entirety of this frame is pulled a dye-sublimated wrinkle-resistant knit polyester fabric graphic (often referred to as a "pillowcase" graphic) that zips up to envelop the frame completely. Graphics can be created single- or double-sided, and each unit breaks down to a fraction of its full size, fitting compactly into an included soft-sided carrying case for ease of transport. A 2 RPM rotating motor is also available for exhibitors looking to add even more functionality.
APG's initial offering of these displays will consist of 8 different shapes, with anywhere from 3 to over a dozen different sizes for each shape, making their stock selection one of the largest in the industry. Additional entries into this product category - such as self-supporting towers that can support the displays, eliminating the need for hanging hardware - will also become available in the coming weeks.
Baron continued, "These new hanging display offerings are a fantastic way to get an exhibitor's brand noticed from all over a trade show floor, and we are proud to offer these high-ROI products at such a low price point. We hope our valued client base is able to take full advantage of all our hard work!"
For more information about APG Exhibits or their brand new hanging trade show display collection, please contact APG Exhibits at 866-752-2192, or use the email link provided.
...
APG Exhibits is a premier online provider of trade show displays, outdoor exhibits, custom booths, promotional giveaways, custom banners and more. APG Exhibits' mission is to provide high-quality trade show display products and outstanding customer service at the guaranteed lowest prices. Contact Customer Support at 866-752-2192 or visit apgexhibits.com for more information.