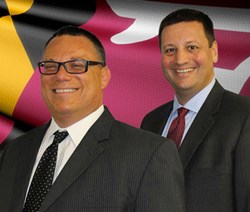 This year's Leadership in Law winners have worked tirelessly to uphold high legal standards and improve communities throughout Maryland
Columbia, Maryland (PRWEB) November 11, 2013
Twenty-eight members of the legal community throughout Maryland were recognized for their outstanding work. Nominations were received from The Daily Record's readers in addition to area law firms, bar associations, chambers of commerce and the business and legal communities at large. Nominees were asked to complete an application that outlined their career accomplishments, community involvement and mentoring activities that would distinguish them as outstanding leaders in the law.
The Daily Record launched the Leadership in Law awards in 2000 as a way to recognize the outstanding work being done by members of the legal community throughout Maryland.
"This year's Leadership in Law winners have worked tirelessly to uphold high legal standards and improve communities throughout Maryland," said Suzanne Fischer-Huettner, publisher of The Daily Record. "They have demonstrated excellence and achievement in the legal community, and they are also leaders within the greater community where they live and work."
The winners will be honored on Thursday, November 14, at a reception and dinner at The Hotel at Arundel Preserve, 7795 Arundel Mills Boulevard in Hanover. Winners will be profiled in a special magazine that will be inserted into the Friday, November 15, issue of The Daily Record and available online at http://www.TheDailyRecord.com.
Sponsors of The Daily Record's 2013 Leadership in Law Awards include Special Counsel, presenting sponsor; Epsilon Registration and VPC, Inc., congratulatory sponsors; and Ellin & Tucker, table sponsor.
For more information about sponsorships and tickets for The Daily Record's 2013 Leadership in Law Awards, visit http://www.TheDailyRecord.com.
About Plaxen & Adler, P.A.
The Maryland injury law firm of Plaxen & Adler, P.A. was founded in 1985. Since its inception, Plaxen & Adler has been dedicated to representing injury victims. Founding partner Bruce Plaxen quickly earned a reputation for being aggressive, creative, zealous and well prepared. The law firm obtained several landmark verdicts and decisions and quickly grew to represent claimants and plaintiffs throughout the State of Maryland. The Maryland injury attorneys at Plaxen & Adler represent clients in the following practice areas:

Automobile accidents
Medical malpractice
Workers' compensation
Social Security Disability
Product liability
For more information about the firm, please go to http://www.plaxenadler.com or call 443-472-4864.