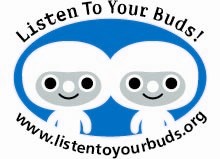 Rockville, MD (PRWEB) November 08, 2013
Five Chicago elementary schools will play host to the national Listen To Your Buds campaign of the American Speech-Language-Hearing Association (ASHA) next week as it descends upon the city with a series of safe listening concerts featuring award-winning musicians Oran Etkin and Billy Jonas.
The concerts are part of an effort to help reduce the risk of hearing loss from unsafe use of personal audio technology. In recent years, hearing loss has become more prevalent among young people, and there is great professional and parental concern that misuse of technology is a contributing factor.
The interactive and informative concerts will offer an engaging and fun approach to teaching children how they can enjoy music while protecting their hearing. The city holds a special place in the campaign's history; the first Buds concert was held in Chicago's Museum of Science and Industry in 2008. Since then, the concerts have taken place in major cities across the country. Uniformly, educators hail them as needed and effective. The Buds campaign returns next week in conjunction with ASHA's annual convention.
What: Concert assemblies headlined by family-friendly musicians with hearing health message
When and Where: Various morning and afternoon concert times November 11, 12, and 13, 2013, at five elementary schools—credentialed media may attend a performance at North Park Elementary, Nov. 12 at 2 p.m.
Why: One in five U.S. adolescents now suffers from hearing loss. An ASHA poll showed 84% of parents reported concern that misuse of personal audio technology is damaging the hearing of children. Yet only half have discussed safe listening with their kids. In addition to health repercussions, hearing loss can affect a child's academic and social success.
Contact: Francine Pierson: 301-296-8715, fpierson (at) asha (dot) org
Campaign spokespeople, hearing experts, and musicians will be available for interviews.
About the American Speech-Language-Hearing Association
ASHA is the national professional, scientific, and credentialing association for more than 166,000 audiologists, speech-language pathologists, speech, language, and hearing scientists, audiology and speech-language pathology support personnel, and students. Audiologists specialize in preventing and assessing hearing and balance disorders as well as providing audiologic treatment, including hearing aids. Speech-language pathologists identify, assess, and treat speech and language problems, including swallowing disorders. http://www.asha.org/.
View all ASHA press releases at http://www.asha.org/about/news.