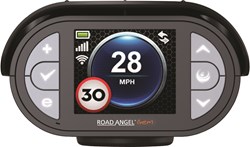 This is an amazing product. It's packed with many features that are not available on other products in the market, and is priced extremely competitively.
Silverstone, (PRWEB UK) 12 November 2013
Produced in the UK the Road Angel Gem+ in addition to all the usual features and functionality drivers demand of a highly specified speed management device, uses mobile phone technology that not only allows users to automatically receive regular system updates and share the locations of 'live' safety camera vans, but also lets users make suggestions to new or revised road speeds.
The feature is called SpeedShareTM and it utilises the vast Road Angel community to create the most up-to-date, digital road-speed map of Britain.
Additional features include Vehicle and Road Categorisation which allows drivers to tailor their alerts to suit the vehicle they are in. This means that the new Road Angel Gem+ will adapt alerts based on a drivers chosen vehicle e.g. car, caravan or lorry and provide different alerts when in a built up area than when driving on a dual-carriageway or motorway.
Plus the new Hot Alerts function warns drivers of areas where there is a high volume of mobile cameras.
Gem+ has an extensive list of features including:

o Fixed safety cameras
o Mobile safety camera locations
o Average speed camera zones
o Red light cameras
o Red light speed cameras
o Hot Alerts - Most frequented camera van sites
o Black-spot areas
o School zones
o Congestion charge zones
o Fatigue warnings
o Railway crossings
The UK's most accurate safety camera and black-spot alerts, with automatic updates every few minutes
Clear display of appropriate road-speed
SpeedShareTM feature
CameraShareTM feature
eAssist link to emergency services
Audible and visual warnings
Overspeed warning
Advisory speed limit at camera locations
Continuous speed reading of vehicle
Simple windscreen mount, and plug and go installation
Full colour screen with, easy-to-use interface
12 month return to supplier warranty
KPH function
Auto Day/night mode
Inbuilt Compass
100% legal
Gem+ has been designed and built by Road Angel, one of the UK's leading developers of innovative GPS-based products and market-leader in safety camera and black-spot locators.
Road Angel Gem+ and Road Angel Gem+ Deluxe are available to buy from Halfords and other selected resellers at £159.99 and £179.99 respectively. The Road Angel Gem+ Deluxe comes with an additional accessory kit, which customers can buy separately with a RRP of £39.99, which includes:
2.5m lead
Windscreen mount
Hardwire Kit
Protective pouch