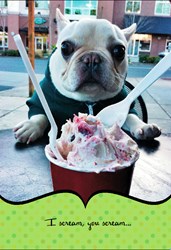 KANSAS CITY, Mo. (PRWEB) November 12, 2013
Today, Hallmark announces the winners in its recent card-creation contest, "Friends, Family & Frosting." Greeting card hopefuls were invited to use original writing and a photo or illustration to create a birthday card for a friends or family member. Entries could be sweet, silly or funny.
Contestants submitted their creations June 24–July 21. The 35 winning entries will be sold on Hallmark.com starting Nov. 11. In-store winners will be announced in May 2014 and featured beginning July 2014 in Walgreens sores. Winners each received $250 and could win an additional $250 if their cards are chosen for in-store sales.
Hallmark judges looked for cards with images and writing that worked well together and fit within the parameters of each category. Participants could enter a total of three cards, one each in anyone's birthday, her birthday or his birthday categories. Entrants were encouraged to check out the Hallmark Contest Facebook page for tips on this contest.
This is Hallmark's 46th consumer-created card contest. The 34 winners are from 19 U.S. states. Two entrants — Eileen Reese and Celia Ridley — won in two categories. Here are the winners in Hallmark's "Friends, Family & Frosting" competition:
Lisa Finley, Eagle River, Alaska
Michelle Ficklin, Placentia, Calif.
Patty Cimlov-Zahares, San Jose, Calif.
Dawn Swingle, Burlington, Conn.
Laura Catino, Newington, Conn.
Judy Cotrone Ramirez, North Port, Fla.
John McGrew, Atlanta, Ga.
Diane Reyerson-Warren, Canton, Ga.
Jessica Ard, Catlettsburg, Ky.
Christa Bramlage, Independence, Ky.
Lindsie Ware, Oak Grove, Ky.
Sara Jackson, Shreveport, La.
Kathy Diamontopoulos, Haverhill, Mass.
Jasmy Methipara, College Park, Md.
Carrie Mohan, Nottingham, Md.
Don Liedke, Windham, Maine
Katie Abrams, Marshfield, Mo.
Lisa Crisafi, Trinity, N.C.
Mary Ellen Ross, Mt. Arlington, N.J.
Lauren Strouble, Batavia, Ohio
Carol Schroeder, Cincinnati, Ohio
Jessica Cockrum, Dayton, Ohio
Kristin Schafer, Harrod, Ohio
Bridget Fullerton, Toledo, Ohio
Irma Mason, Xenia, Ohio
Stephanie Jamiolkowski, Allentown, Pa.
Melissa Soto, Dallas, Texas
Rebecca Kyle, Dripping Springs, Texas
Melissa Canda, Lynnwood, Wash.
Christina Tucker, Flemington, W.V.
Eileen Reese, Hague, Saskatchewan, Canada
New competition now open
Hallmark's latest competition, Caring Messages, is currently accepting submissions through Nov. 17. Consumers are invited to draw on personal experiences to offer wisdom, give encouragement, or express admiration in a card for a caregiver or for the person in their care. For more information or to submit a design, visit Hallmarkcontests.com.
About Hallmark Cards, Inc.
Hallmark makes the world a more caring place by helping people express what's in their hearts and spend time together – a privilege few other companies in the world enjoy. Hallmark greeting cards and other products are found in more than 39,000 retail outlets in the United States, including the network of flagship Hallmark Gold Crown® stores. The brand also reaches people online at Hallmark.com and on television through Hallmark Hall of Fame original movies and cable's top-rated Hallmark Channel. Worldwide, Hallmark offers products in more than 30 languages available in 100 countries. This privately held company is based in Kansas City, Mo., and is led by the third generation of the founding Hall family. Visit http://corporate.hallmark.com for more details.