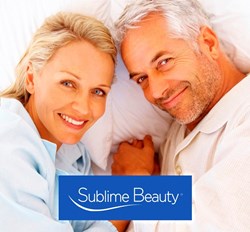 Plan to put your best face forward this holiday season.
St. Petersburg, FL (PRWEB) November 12, 2013
The holiday season is fast approaching, and this will include parties, family events and get-togethers. Plan to put your best face forward and prepare now.
"Smooth even skin tone that exudes health is what we are going for," says Kathy Heshelow, founder of Sublime Beauty®. "Collagen levels are at the heart of great skin, along with proper hydration. We lose collagen as we age, and this is behind wrinkles, fine lines and sagging skin."
The Collagen Peptide serum with Matrixyl is recommended. Matrixyl is a peptide that can double collagen production. The serum is light and airy, absorbs well and should be used twice daily. "This is one of our most popular serums," says Heshelow. It is currently on sale.
The Face Whisperer® Night cream also has Matrixyl, while the Face Whisperer® Day cream includes Trylagen to help boost collagen and Argireline, known as the natural botox, to help relax wrinkles. Wrinkes can be reduced by up to 40% in a month with daily use of the day cream.
Proper hydration is important for radiant skin, too. The Face Whisperer® products have very beneficial moisturizers as do the serums.
In addition, the Hyaluronic serum is perfect to pair with the Collagen serum. Hyaluronic acid naturally occurs in our skin but like collagen diminishes with age. It is responsible for plumping and moisturizing the skin (and can hold 1,000 times its weight in water.)
Finally, Retinol should be included in most anti-aging regimes. It is a powerful ingredient that can help reduce age spots, hyperpigmentation, lessen wrinkles and fine lines and help with a host of issues. Purchasers receive a 6 page brochure about the research and science behind the non-irritating Sublime Beauty® Retinol Serum.
"Most of our products include informational and educational brochures about the ingredients and history," says Heshelow. "People today want to be informed. All of the products above include brochures sent by email after purchase."
Sublime Beauty® uses Amazon for its warehousing and fulfillment, so customers can benefit from free shipping. All products are currently on sale. In addition, Sublime Beauty® has paired its serums with jewelry for winning holiday gifts, found on its website on the Christmas Guide section.