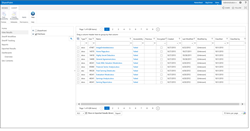 File shares are truly the wild, wild west of the enterprise," said Wendy Nather, Research Director of the enterprise security practice at 451 Research. "They're where forgotten data goes to die, and where many data breaches happen.
Nashua, NH (PRWEB) November 12, 2013
Many organizations have moved to content management systems like SharePoint, Box and Dropbox, while many more continue to rely on traditional File Shares to store and collaborate on terabytes of unstructured data, including sensitive and regulated information. Today HiSoftware, a leading provider of compliance and security solutions for SharePoint, announced HiSoftware Security Sheriff™ for File Shares. The latest release provides compliance auditing, granular document security and distribution controls, as well as tracking capabilities for Windows Server File Share content.
File shares remain a key component of many organization's document ecosystems, housing large numbers of word processing files, spreadsheets, PDFs and other sensitive documents. While a large number of these organizations may eventually migrate to platforms such as Microsoft SharePoint, others will continue to store information in existing repositories.
"File shares are truly the wild, wild west of the enterprise," said Wendy Nather, Research Director of the enterprise security practice at 451 Research. "They're where forgotten data goes to die, and where many data breaches happen. They need a sheriff to bring them into line."
Auditing and Applying Granular Security to Sensitive File Share Content
Available as both a stand-alone solution and an add-on for existing SharePoint customers, Security Sheriff for File Shares helps organizations manage and automate compliance with policies for content security, compliance and privacy. It performs several key functions:

Scanning existing file share content: This process identifies sensitive documents by looking at their entire contents. This is a key concern for companies who have accumulated massive amounts of data on files shares, and often do not know where or how much sensitive data exists; and
Auto-classifies content to control access and set distribution restrictions: Once sensitive data is identified, Security Sheriff uses metadata-driven, item-level security to automatically classify content to restrict access and control what can be done with it. This includes encrypting the information or restricting document actions, including print, save as, copy and email, based on the level of sensitive information contained within.
Tracks who has accessed the data and what actions have been performed, to better aid auditing and risk management.
Organizations using Windows Server File Shares in addition to SharePoint for storage and collaboration can leverage Security Sheriff's rules across both platforms thereby enabling administrators to centrally manage policies, classifications and controls. As an added benefit, documents classified with Security Sheriff on the File Share platform can be migrated to SharePoint with their classification and any distribution rules enabling companies to easily identify and secure sensitive data before it's brought into SharePoint.
"Adding File Share support is a natural extension of the information governance and security capabilities we already provide for SharePoint. Our customers often use a mix of platforms to store and collaborate on data. Regardless of where information resides, they face the same challenge – ensuring that only the right people can access sensitive data," said Kurt Mueffelmann, president and CEO, HiSoftware. "By centrally managing policies and rules, companies can leverage the governance benefits of Security Sheriff across multiple environments for efficient and cost-effective risk management."
A Microsoft Gold Independent Software Vendor (ISV), HiSoftware provides content-aware solutions for managing SharePoint security and privacy, Web accessibility, brand integrity and quality, to hundreds of public sector organizations including federal agencies, colleges and universities, in addition to leading global corporations. HiSoftware Security Sheriff for File Shares is now available. More information about HiSoftware compliance and security solutions for File Shares can be found at: http://hisoftware.com/products/hisoftware-security-sheriff/hisoftware-security-sheriff-for-file-shares.aspx.
About HiSoftware
HiSoftware provides end-to-end information security and compliance solutions to help organizations address business process, regulatory and productivity concerns around the secure collaboration of data in content management systems and social environments. HiSoftware solutions add a layer of security at the content level to enforce data and web governance policies and improve collaboration, while minimizing risk on a wide range of digital environments including SharePoint, file shares, enterprise social systems, mobiles, intranets, extranets, public websites and the cloud. HiSoftware is a Microsoft Gold Application Development Partner with over 1,000 customers across a broad range of industries including Global 2000 companies, higher education, and US and international government agencies. Learn more at http://www.hisoftware.com or follow @HiSoftware on Twitter.