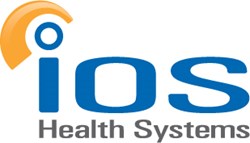 We have taken the user experience to the next level by giving them easy tools to make their job easier.
Miami, FL (PRWEB) November 11, 2013
IOS Health Systems has released the newest version of its cloud-based Medios EHR and Medios PM at no cost to existing clients. New financial tools in the Medios Practice Management software give ultimate control and visibility into the practice's financial health while new clinical functionality gives a completely streamlined experience to physicians. Medios EHR has long been rated one of the most user-friendly Electronic Medical Record softwares by third-party rating services such as Software Advice and EMRConsultant.com.
"This is an exciting time to be a Medios client. We have taken the user experience to the next level by giving them powerful tools to make their jobs easier in a increasingly complex environment," says Candice Watson, Director of Client Operations.
Using Medios EHR, Physicians can quickly document using the an iPad or tablet with the flexible Medios template library or by voice dictation, which allows them to efficiently treat their patients without wasting time on awkward documentation formats. The latest version of Medios includes tools that help practices manage and maximize their revenue which is increasingly critical as reimbursement models become progressively more complex.
"Because of new regulatory changes such as ICD-10 and Meaningful Use Stage 2, most other vendors are focused on just trying to achieve 'status quo' with basic compliance. Our success has always come from two primary areas: Innovation and a relentless focus on Client satisfaction which is what we have continued to deliver," says Watson.
IOS Health Systems (IOS) is a privately held health information technology corporation with headquarters in Miami, FL. IOS offers the industry's most innovative cloud-based software platforms for provider based organizations including the ONC-ATCB Certified Medios EHR, Medios PM and Medios Patient Portal. IOS combines industry leading service with high performance software to enable providers to better manage their practices while improving the quality of care for their patients.
Contact IOS at (877) 467-1467 or info(at)ioshs(dot)com. Visit our website at http://www.ioshealthsystems.com.