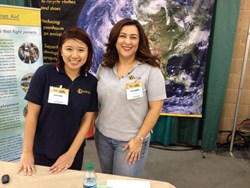 Commerce, CA (PRWEB) November 08, 2013
Planet Aid, Inc. participated in and exhibited at the seventh annual Green California Schools Summit and Exposition that was held at the Pasadena Convention Center on November 6-7. Developed under the leadership of an advisory board, the Summit is the state's largest annual event focused on green programs in California Schools.
More than 100 companies offering green products and services participated in the Summit's expo. There were also educational workshops, concurrent program sessions and special events including a Leadership Awards reception. The Summit is an annual opportunity for both public and private sector participants to learn of the latest developments in policy, practice and technology.
Julie Delgadillo, Planet Aid's Community and Government Relations representative said, "The expo was exciting. Local sustainability was a key issue at the conference as well as providing healthy environments for California's students. It was an honor to be among the organizations present at the conference who are working to help make California's schools more green."
Headquartered in Elkridge, MD, and with offices nationwide, Planet Aid is a nonprofit organization whose mission is to inform, mobilize and inspire individuals and communities to work together to bring about worldwide environmental and social progress. Incorporated under the laws of Massachusetts and recognized as a tax-exempt charity under IRS code 501(c)(3), For more information on Planet Aid, visit Planetaid.org.