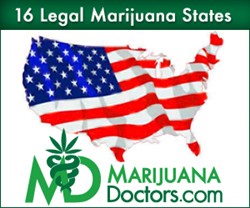 'They went the extra mile to make my experience pleasant. It was amazing. Here, I am a grandmother, with a mysterious lung disease, recently adjusting to a need for oxygen therapy.' -Shirley Allen
Chicago, Illinois (PRWEB) November 13, 2013
The Society of Healing Arts Institute (more commonly known throughout Michigan as SoHAI), is an alternative healthcare organization that has long been regarded as a top provider of professional medical cannabis certifications and other holistic patient services. Having previously added 7 locations to the MarijuanaDoctors network; SoHAI announces the extension of its services into the state of Illinois. The newest location of this reputable clinic is located at 1933 S. State St. The much anticipated grand opening of the all new Chicago-Loop location is on November 18, 2013.
As patients' needs and demands continue to grow at an exponential rate, there is a recognized necessity for an expanding holistic health practice that includes choices in cannabis and alternative medicine (CAM). For this very reason, SoHAI has extended its health services to the patients in the Prairie State. Co-founders of The Society of Healing Arts Institute, Paul Farage and Anthony Holmes, have stated how excited they are to see the expansion come to fruition to serve the greater Chicago metropolitan area. Holmes said of the new Chicago location, "It is so important to serve the community with an array of services while empowering our patients in all steps along their journey toward optimal health."
The Society of Healing Arts Institute is respected for its unrivaled level of professionalism, experience, and overall focus on individualized patient care and education. One patient who vouches for the clinic is Shirley Allen, a grandmother. Allen recently visited SoHAI's Northern Michigan office and exclaimed how remarkable her experience was. "They went the extra mile to make my experience pleasant. It was amazing. Here, I am a grandmother, with a mysterious lung disease, recently adjusting to a need for oxygen therapy. Walking into the SoHAI world was a memorable and pleasant experience. Thank you very much for the work you do! Shirley, Northern Michigan."
With the recent passing of The Compassionate Use of Medical Cannabis Pilot Program Act, SOHAI is in a great position to offer expertise on all things medical cannabis in a completely HIPAA compliant and legal manner. It is recommended to preschedule appointments and consultations by calling (toll free): 855-697-6424 (855-MY-SOHAI). Please be on the lookout for future announcements regarding community acupuncture, massage, clothing optional yoga classes and nutritional consultations. SOHAI offers truly unique healing opportunities for all.
SOHAI - The Society of Healing Arts Institute
1933 South State Street -Suite C
Chicago, Illinois. 60610
Media Contact: Anthony Holmes --773-354-4553 | tony(at)SOHAI(dot)org