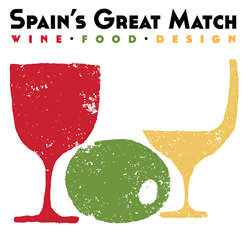 Miami, FL (PRWEB) November 11, 2013
On Tuesday, November 12th, Wines from Spain returns to Miami for its annual 'Spain's Great Match' US tour stop. The event will take place at the The Moore Building in the Miami Design District. The Great Match is a collaborative celebration of the distinctive wines and food of Spain. American importers and distributors of Spanish wines will be presenting their finest products, some new wines and the latest vintages to wine industry professionals (trade and media) and consumers. More than 300 Spanish wines will be featured in a walk-around tasting format.
At 12:30 pm, a tutored tasting seminar presented by the Grandes Pagos de España, an association of Spanish wine producers dedicated to upholding and promoting Spain's single estate wines, will be held for select trade and media. Attendees will taste through 24 of the 27 prestigious winery estates that belong to Grandes Pagos de España including the finest examples of winemakers, including Carlos Falco, Victor de la Serna and Mariano García. Grandes Pagos wines faithfully reflect the soil and climate from which they hail, imbuing unmistakable personality to each wine. The exclusive seminar is a once-in-a-lifetime opportunity to taste these wines in a tutored setting, moderated by noted wine and spirits expert Steve Olson.
The Great Match Miami event opens to wine and food enthusiasts from 6:30 to 9 pm as a ticketed lifestyle event. In addition to the wine stations, it will feature a selection of tapas from Miami's best Spanish restaurants and gastro bars, including The Bazaar by Jose Andres, Perfecto, Casa Juancho, Bocaito, Café Xixón and others. Event proceeds will benefit Miami's Camillus House charity, whose mission helps feed and foster the city's marginalized citizens.
Guests will also have the opportunity to visit: "Tapas: Spanish Design for Food", an exhibition organized by Accion Cultural Española (AC/E) with the collaboration of SPAIN Arts & Culture, La Fundación España-Florida 500 Años and the Centro Cultural Español de Miami, in recognition of the 500th anniversary of the arrival of the first European, Spaniard Ponce de León, to the shores of Florida.
Trade and Press Event Schedule
1:30 – 5:00 pm Walk-around wine tasting
12:30 – 2:00 pm Seminar: Grandes Pagos de España moderated by Steve Olson
Registration for members of the trade and press is available online at sgmmiami.eventbrite.com
Public Event Schedule and Tickets
6:30 PM – 9:00 PM Tasting open to the public
Tickets for the public are available at sgmmiami2013.eventbrite.com
General Admission - $60
Attendees must be 21 or older to attend. Photo ID required.
Address: The Moore Building, 191 NE 40th Street, Miami, FL 33137
Please visit http://www.greatmatch.org for more information.
###