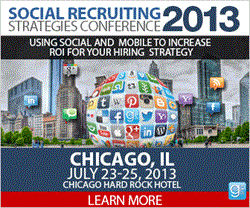 Nicky and Lauren will share lessons learned in creating employer brand content that builds attraction as well as data captured from the campaign thus far.
San Francisco, CA (PRWEB) November 12, 2013
November 12, 2013- GSMI is excited to announce that Yum! Brands (Pizza Hut USA) will be speaking at the 4th installment of the Social Recruiting Strategies Conference this January 28-30, 2014 at the Hilton Financial District in San Francisco.
#SRSC is a leading Social Recruiting Conference, with case studies. The conference gathers leading employers, HR and recruitment industry professionals, to passionately discuss and practically demonstrate the impact of social media in talent acquisition strategies and employer branding.
Lauren Hogan, Talent Acquisition and Digital Recruiting Strategist and Nicky Gibson, Senior Manager, Talent Acquistion, will share the story of how the company went from having essentially no social strategy just a few years ago to launching their social brand @pizzahutpeople and effectively building and fully integrate a social recruiting strategy around a platform that has garnered a true following. Nicky and Lauren will share lessons learned in creating employer brand content that builds attraction as well as data captured from the campaign thus far.
Lauren Hogan has 15 years combined experience in Operations and Human Resources. Currently, she is responsible for delivering successful talent acquisition strategies for Pizza Hut Field Operations. As a brand ambassador, she connects with restaurant leaders to share the Yum experience and recruit the best talent into our 15 equity Pizza Hut regions.
Lauren is also the acting subject matter expert for all digital recruitment media including one of the largest employer pages on Facebook, Pizza Hut People. She creates, manages, and engages on all five social platforms including Facebook, Twitter, Instagram, Pinterest, and LinkedIn.
Lauren was recently honored with Pizza Hut's prestigious Achieving Breakthrough Results President's Award. This award is given to only 25 Pizza Hut employees annually for their outstanding performance during the year. Lauren's team was also awarded Success Factors First Place for Recruitment Innovation and Excellence and DFW Recruiting Team of the Year by Dallas-Fort Worth Texas Recruiters Network.
As Senior Talent Acquisition Manager for Pizza Hut, U.S.A. at Yum! Brands, Nicky is responsible for social media recruiting, college recruiting, diversity and recruitment marketing strategy for all 6000+ franchisee restaurants. Her team of recruiting experts is responsible for building management talent pipelines for all company owned Pizza Hut restaurants, corporate headquarters.
For more information or to register for #SRSC, please visit http://www.socialrecruitingstrategies.com Early bird discounts are available through November 15, 2014. Group discounts are available.
About Global Strategic Management Institute:
GSMI is a leader in the industry of executive education, creating conferences, summits, workshops and training sessions that combine rich learning environments with the opportunity to network with today's most relevant thought leaders, speakers and practitioners. GSMI's annual events have reached 70% of the Fortune 500 companies, in over 30 countries, covering topics that today's leaders find most challenging and inspiring.
###
MEDIA CONTACT:
Tom Dibble
GSMI
888.409.4418 Ext: 1860
Tom(dot)Dibble(at)gsmiweb(dot)com