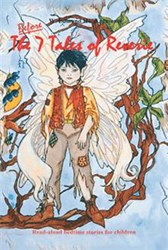 I want young readers to discover the joy of reading through my books."
Tigard, Oregon (PRWEB) November 12, 2013
Before The Seven Tales of Reverie tells seven interrelated stories for children. This new book acts as a companion to 2012's The Seven Tales of Reverie, defining the setting of that book and providing background information. These books will surely excite readers through plot lines such as the unlikely friendship between a prince, a peasant boy, and a dragon, and that of a young princess with a cat.
Though Before The Seven Tales of Reverie is a prequel to 2012's book, author W. Edmund Hood ensures that each individual story can stand on its own to engage young readers. Between both books, there are fourteen stories, making the book ideal for bedtime reading. However, all the stories do tie in together, sometimes overlapping through a setting or event; as a set, the two books create an in depth world for children to get lost in.
W. Edmund Hood's books are fairy tales, yet today's children will find them extremely relatable. The setting is not quite the "real world," but it is far from the common perceptions of a fantasy realm. The fairies in Hood's books act like ordinary people, and don't always have wings. However, they do dabble in magic and take part in the constant struggle between good and evil.
Reviewer Penn Fullerton says of the book, "This is some of W. Edmund Hood's best writing."
W. Edmund Hood explores themes of loyalty, family, and the triumph of good over evil in his fairy tales. His fondness and respect for children has inspired him to create these unique fairy tales, realistically portraying young people and captivating young hearts and imaginations.
Says Hood, "Our children deserve a new kind of fairy tale, where magic and adventures balance with characters they relate to and a world like their own."
W. Edmund Hood
Author W. Edmund Hood was born in Boston in 1937, and currently resides in Tigard, Oregon. He began writing in the 1960's with various articles for newspapers, etc. and has continued writing professionally throughout his life. He has also worked with children a great deal, teaching Sunday School, leading 4-H, and being a 15-year veteran scout leader. In addition to writing, he enjoys Amateur Radio, astronomy, photography and magic.