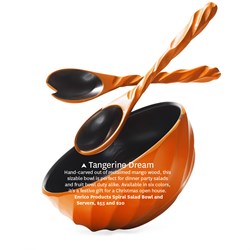 Seattle, WA (PRWEB) November 10, 2013
The holiday season is here and along with it the announcement of Oprah's Favorite Things for the 2013 holiday season, including Enrico's Spiral Salad Bowl and Servers in stunning Tangerine Orange from their expansive Casual Dining Collection. Available online at Amazon.com, among others, and from independent retailers across the country, Tangerine is one of six colors and finishes offered in the collection and is proving to be a winner for the upcoming holiday season.
"The reclaimed mango production process is a flexible one, which is part of the beauty," says Dave Hoots, one of three partners in Enrico Products. "We start with an idea, loose sketches, then tighter drawings, and then we work directly with our overseas partners – the carvers and finishers – and work through the samples until we find the look, the feel, the rhythm we are after in a collection. This isn't close-tolerance machining, so no two pieces are exactly alike, but they form a cohesive group. It's about experimentation, artisanship, and collaboration."
The deeply carved Spiral bowls, salad servers, and the accompanying platter, have colorful, sculptural visual impact and great tactile appeal as well; they simply feel good in the hand. In addition to Tangerine Orange the collection is offered in Avocado Green, Chili Pepper Red, Black, White on mango wood, and in Natural Acacia, carved from the abundant native Thai acacia trees. These unique serving pieces are equally at home on a smartly dressed dining table or out on the patio with burgers on the grill.
Along with the Spiral items, Enrico's Casual Dining Collection includes a Honeycomb-patterned suite in an even wider array of colors, with bowls, servers, platters, utensil vases, side salad bowls, and salsa bars. "Casual Dining was originally created to bring great colors into our catalog, using really useful and beautiful pieces with wide appeal. It has become an incredibly popular segment of the Enrico range, and we keep finding new colors and styles that really resonate with people, which is fun to watch," says Enrico partner Jim Ratti.
Casual Dining is one of six collections within the Enrico catalog. A visit to the company website, http://www.EnricoProducts.com, reveals the incredible RootWorks Collection, hand-carved, organically shaped bowls, platters, vases, and more, made from reclaimed fir stumps from the mountains of Central China. In addition to RootWorks, Enrico offers Mangocraft, comprising a wide range of hand-shaped reclaimed mango vessels with a natural bark edge, and the enigmatic Jungle Driftwood Collection, featuring gorgeous organic-shaped platters, bowls, and boxes made from naturally fallen teak root. For a more tailored approach, there are EcoTeak gadgets made from beautiful reclaimed teak and solid brass, and the Acacia Tree Collection, with more traditional serving pieces in Thai acacia as well as the fantastic Enrico grater, based on an age-old Italian design.
About Enrico Products
Enrico Products was founded in 2005 by partners Jim Ratti, Chad Richardson, and Dave Hoots in Seattle, Washington. The first product was the Enrico grater, based on an original design by Enrico Ratti, partner Jim Ratti's grandfather. The grater is still one of Enrico Products' top selling products and has garnered praise from InStyle Magazine and La Cucina Italiana magazine, who called it "the Bugatti of cheese graters". Enrico's grater was also honored as a finalist in The Gourmet Housewares Show Gourmet Golds Awards in 2007. During the early cheese grater development the Enrico team encountered the reclaimed fir material that would become their wildly popular RootWorks Collection; this discovery set the tone for the materials and sourcing practices all of their collections now follow, which Enrico has coined 'eco-intelligent'. The grater and complementary products are sourced in fast-growing, durable acacia wood from China and Thailand. Their widely varied collections from Thailand use reclaimed and sustainable material sources in unusual ways – reclaimed mango from the vast Thai mango plantations, teak and other roots and stumps collected from the forest floor, and highly prized old growth teak reclaimed from old houses, fences, and farming implements. Enrico partner Chad Richardson says of their sourcing practices, "We are always searching for great materials, often things that would have gone on the waste heap. The best example of this is our RootWorks material, which is really just the stumps left from the harvesting of farmed timber. Removing them allows for faster re-growth of newly planted seedlings, and we turn those gnarly stumps into incredible pieces of art." Enrico's partnerships with dedicated and talented overseas artisans have turned the simple pursuit of a good cheese grater into an international, eco-friendly development effort, and their insistence on quality and design excellence has earned them a broad customer base, from small independent gourmet and gift stores to some of the largest retailers in North America.