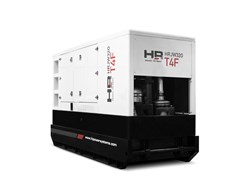 "HIPOWER SYSTEMS looks forward to working with John Deere, and we are designing generator enclosures to match the level of excellence in these engines," said HIPOWER SYSTEMS President Rafael Acosta.
(PRWEB) November 13, 2013
Hipower Systems, a manufacturer of power-generation and power distribution equipment in the U.S. and Canada, today announced it has chosen John Deere as a supplier for Final Tier 4 diesel engines in Hipower generators. The first engine Hipower will be offering in its generators is the John Deere PowerTech™ PSS 9.0L.
The engines are fully compliant with the EPA's Final Tier 4 emissions standard, which is part of a federally mandated effort to reduce emissions of particulate matter (PM), oxides of nitrogen (NOx) and other air pollutants from new, non-road diesel engines. Final phase of the standard is ongoing through 2015.
"Hipower Systems looks forward to working with John Deere, and we are designing generator enclosures to match the level of excellence in these engines," said Hipower Systems President Rafael Acosta. "We anticipate demand to be considerable, especially among oil and gas industry firms and equipment rental companies."
Key features of the PowerTech™ PSS 9.0L gen drive engine include:

Available in 237 kW to 345 kW (318 hp to 463 hp) standby power ratings.
Has attained EPA Final Tier 4 and California Air Resources Board (CARB) emissions certification.
Engineered using the PSS technology platform featuring 4-valve cylinder heads, cooled exhaust gas recirculation, John Deere electronic engine controls, high-pressure common-rail fuel systems, and air-to-air aftercooling.
Incorporates an aftertreatment technology with exhaust filter and selective catalytic reduction.
"These engines represent the cutting edge of Final Tier 4 technology," said President Rafael Acosta. "These are truly superior engines with the reliable design that our customers have come to expect from Hipower SYSTEMS."
About Hipower Systems
Hipower Systems (a division of Himoinsa, S.A.) is the principal supplier of power distribution and prime, standalone power-generation equipment and packages to the U.S. and Canadian markets, serving the Residential, Commercial and Industrial sectors including the Agriculture, Telecommunications, Health Care and Oil & Gas Industries. The company builds and customizes diesel generators from 8kw to 3MW and natural gas or alternative fuel/bi-fuel sets from 20 to 400kW with a complete range of accessories, including automatic transfer switches, paralleling switchgear, UL tanks, enclosures and power distribution equipment.
In North America and throughout the globe, our rental packages and power distribution equipment are recognized as the best power solution source for emergency and disaster relief. For more information, visit http://www.hipowersystems.com.