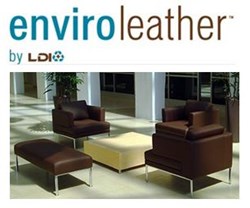 Enviroleather™ offers exciting designer prints, new colors, superior durability and an environment friendly design to help the A&D community provide unique applications in healthcare, education, hospitality, and corporate environments.
Portsmouth, NH (PRWEB) November 12, 2013
Enviroleather™ has gained A&D recognition for combining outstanding durability and chemical resistance with key environmental benefits. As a more sustainable alternative to vinyl and leather, Enviroleather™ contains no PVC, no plasticizers, no halogen flame retardants, and no heavy metals. It also passes the stringent California 01350 indoor air quality test and contains renewable material and post-consumer recycle content.
In addition to its environmental benefits, Enviroleather™ offers luxurious, soft feel and comfort and is elegantly designed with a wide array of colors, designs and prints.
LDI President Josh Dame states, "The name change and rebranding demonstrates our commitment to invest in new technologies and designs for this market. Our goal is to continue to develop new products that excite the A&D community, along with sampling resources to help them easily specify and use Enviroleather™. We hope to earn their recognition of our brand as being the leader in the faux leather category."
The new brand image will be displayed at the Healthcare Design trade show in Orlando, FL, November 17-19. Please visit them at booth # 1627. Also, visit their new website at http://www.Enviroleather.com.
About Enviroleather™ by LDI
Recognized with a reputation for excellence, Enviroleather™ by LDI is committed to designing PVC-Free faux leathers that combine a soft feel with environmental benefits, outstanding durability and chemical resistance. Visit http://www.enviroleather.com or call 866-332-0700 for more information.
Headquartered in Portsmouth, New Hampshire, LDI Corporation was founded in 2004 by plastics and textile engineers who possess a unique understanding of material chemistry and performance characteristics. The company quickly became known for producing eco-friendly, faux leathers that meet the highest levels of health and safety criteria, without sacrificing performance.