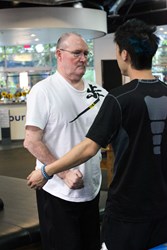 I knew that [limited mobility] wasn't for me and with the help of my Specialists here at Project Walk, I've proved them wrong.
Carlsbad, CA (PRWEB) November 12, 2013
While working in the garden, Jim Price, father of three and loving husband to wife Judy, felt a strange feeling in his arm that initially led him to believe he had suffered a heart attack. Upon calling the paramedics, Jim realized the sensation had spread and by the next morning his entire right side was paralyzed. Doctors diagnosed these symptoms as Transverse Myelitis, a rare neurological disorder that causes inflammation that can attack the nervous system. Ten days later a second attack left Jim without the use of his body from the neck down. In turn, Jim spent the next 69 days fighting for his life, and the last four years determined to prove to those that love him most that he refuses to become a statistic and will one day walk again.
Today, Jim is focused on making life in his wheelchair an afterthought and is gaining ground at the Project Walk Spinal Cord Injury Recovery Center in Carlsbad, CA. With the help of his wife of 48 years, Jim has found that it takes a special support group and a company dedicated to bringing hope beyond the chair to make his dreams of walking again a reality.
"I was told by one physician that I would probably never regain function beyond the ability I had at the time, which meant I probably wouldn't do anything more than move my left thumb," says Price. He adds, "I knew that wasn't for me and with the help of my Specialists here at Project Walk, I've proved them wrong."
Based on The Dardzinski Method, Project Walk uses intense activity-based recovery backed by research and technology to expose those affected by the injury to the most forward-thinking rehabilitation in the industry. It's the out-of-the-chair mentality and the superior knowledge of Project Walk Specialists that has brought Price back to Project Walk after trying other avenues of therapy. Upon his introduction to Project Walk, Price was amazed at the difference in improvement after just a few sessions.
"It was almost immediate," says wife, Judy when reflecting on his first few weeks at the Project Walk Facility. "When he first came here, his Specialists worked with him and on the squat rack he could go from the sitting position to the standing position on his own." She adds, "Today he stood unassisted for twelve seconds."
Jim continues to progress through weekly sessions at Project Walk, but hopes to one day inspire other clients determined to improve as he has. Shortly after Jim's paralysis, he began to write personal memoirs that follow the struggles and successes of the injury. He hopes to publish his journal to help those facing similar challenges learn that looking back is never as good as looking forward.
Spinal cord injuries affect more than 1 million US citizens and the need for aggressive, alternate forms of recovery are key to promoting independence and an improved quality of life. For more on Project Walk and stories like Jim's, please visit our website at http://www.ProjectWalk.org
Project Walk Spinal Cord Injury Recovery Center, the world leader in spinal cord injury (SCI) recovery, provides an improved quality of life for people with SCI through intense activity-based recovery programs, education, training, research and development. SCI Business Solutions Inc. is the exclusive operator and franchisor of Project Walk and consists of a global network of franchised and licensed locations encompassing both for and nonprofit businesses. Headquartered in Carlsbad, California, Project Walk has locations throughout the United States and worldwide, serving thousands of clients in over 30 countries, on 6 continents.