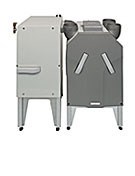 Even at -50 degrees Fahrenheit, the Zehnder HRV with a ground source preheater maintains a two degree differential between supply and return air.
Greenland, NH (PRWEB) November 12, 2013
Zehnder America announces that it has completed the Exova laboratory third-party testing of the Zehnder ComfoAir 550 Heat Recovery Ventilator (HRV) with ComfoFond-L ground source heat exchanger. With 99% Apparent Sensible Effectiveness and 91% Sensibly Recovery Efficiency at -25 degrees Celsius/-13 degrees Fahrenheit, heating loads are drastically reduced in a cold climate. The combined power consumption of the HRV and geothermal heat exchanger is approximately 90 watts/hour. This is an extremely low power consumption considering beneficial heating load savings and comfort for its inhabitants. By capturing the free stored energy in the ground to pre-heat air entering the HRV, the fresh filtered air coming out of the HRV is within 2-3 degrees of the comfortable inside temperature. This is the case even when the outside temperature is well below freezing. This mitigates uncomfortable cold drafts during winter months. The Zehnder HRV with ComfoFond-L geothermal heat exchanger provides a groundbreaking alternative to a HRV industry performance issue of recirculating stale air in cold weather climates to prevent the HRV core from freezing. This approach by other HRV systems sacrifices optimal indoor air quality during cold winter months.
Today's buildings have become increasingly tighter and more insulated due to building codes and energy-efficiency awareness. Zehnder's breakthrough Heat Recovery Ventilator with ground source pre-heater solution allows increasingly energy-efficient homes in cold climates to have a continuous supply of fresh filtered air, a comfortable indoor environment and a reduction of heating loads. "Alaska provides one of the most extreme climates in the world, and demands the use of only the highest performing components and strategies. Zehnder ComfoAir combined with the geothermal heat exchanger has proven to be, by far, the best choice for us to meet our HRV efficiency goals," according to Thorsten Chlupp, owner of Arctic Sun and Zehnder dealer in Alaska. In regards to his own home, Thorsten continued, "I was really impressed with the Zehnder HRV performance in my home. Even at -50 degrees Fahrenheit, the Zehnder HRV with a ground source pre-heater maintains a two degree differential between supply and return air." For additional information regarding the Zehnder HRV, the ComfoFond-L ground source heat exchanger performance in cold climates and Thorsten's personal experience, view the video here.
Importance of a ventilation strategy in a high-performance building:
Without proper ventilation, tight, energy-efficient construction risks mold, mildew and indoor air quality issues. A high-performance heat recovery ventilator ensures fresh, filtered air and a reduction of heating/cooling loads. As a result, a comfortable and healthy indoor environment is achieved for the energy-efficient home year-round.
About Zehnder America
Zehnder America is the leader in high-efficiency Heat Recovery Ventilators (HRV) and Energy Recovery Ventilators (ERV) in North America. For all high-performance homes, Zehnder's technical team will help with the designing of the Zehnder ventilation system to ensure optimal indoor air quality and comfortable living. Zehnder America is a division of the Zehnder Group, which has 3200 employees worldwide and specializes in advanced heating, cooling, and ventilation solutions. The Zehnder Group has been in business since 1895.