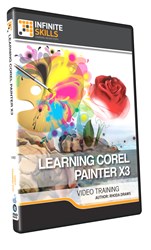 Learn to create digital art at your own pace with Learning Corel Painter X3 training course,
(PRWEB) November 10, 2013
Software training firm Infinite Skills Inc. this week released its "Learning Corel Painter X3 Tutorial," an introductory course designed to help beginning users learn all the skills and tools necessary be able to create digital art using this powerful program.
Corel Painter is a raster-based digital art program designed to emulate the appearance and behavior of traditional painting and drawing in a digital environment. While it includes features for adding special effects, it's signature capabilities allow users to render traditional effects such as watercolor and pencil drawing in a digital environment.
Infinite Skills Learning Corel Painter X3 covers all the essential tools for beginning to create with this dynamic and feature-rich program.
Learning Corel Painter X3 Video Training - Streaming
Course author Rhoda Draws, a digital painter for more than 20 years, is one of a few dozen Corel Painter Masters. She has been using Painter for fine art, illustration, portraiture, and caricature, since its first release as Painter 1.0. She is the author of a training series called Digital Painting Fundamentals for Corel Painter.
Following an introductory tour of Painter, including a look at brushes and palettes, Draws begins with the Painter toolbox, introducing the basic toolset, color panels, and basic menu commands.
Draws then continues by covering some more advanced functionality such as cloner brushes and using brush controls, preparing students for a guided project where they create an abstract painting.
Other chapters cover features such as working with the effects menu to alter tones and surfaces, working with text, as well as advanced topics, like using automatic and semi-automatic techniques and working with animation features.
"This is a basics course," Draws says, "so we will start simple and get more complex as you learn to create stunning artwork in Painter."
Free demo videos and a full list of course contents can be found on the Learning Corel Painter X3 Tutorial training page of the InfiniteSkills website:
http://www.infiniteskills.com/training/learning-corel-painter-x3.html
Infinite Skills offers its Learning Corel Painter X3 Training Video either as a DVD or a direct download from the company website at a retail price of $99.95. Though the compatibility of programs varies, all InfiniteSkills titles and formats are compatible with both Mac and Windows operating systems, and shipping is available around the globe. Additionally, InfiniteSkills tutorials are supported by project files which correspond to examples in the videos.
About Infinite Skills Inc.
A leader in the field of software training, Infinite Skills designs its courses on a task-oriented model, teaching complex skills by providing hands-on examples and guiding users as they carry out essential functions. Infinite Skills offers a wide range of software titles available as DVDs, digital downloads, and in iPad editions. Infinite Skills now offers a subscription service, providing access to all its training content for a monthly fee, keeping with company's aim of delivering professional training to customers anywhere they want to learn.