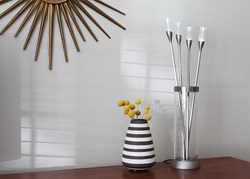 Trumbull, Conn. (PRWEB) November 12, 2013
Peter Goncalves, 3D graphic artist and independent inventor, announces the launch of a Kickstarter campaign for his Stem Light, a modern and industrial-chic new lighting concept with innovative technology integrated into the design.
Stem Light merges an elegant, sleek design with a unique innovation: the power to illuminate your space, create a dim glow or completely turn off the lights by simply rearranging the stems within the base.
With Stem Light, a high performing, low-wattage LED bulb is attached to one end of a stainless steel rod or "stem". Electric current is then provided to the bulb by touching the tip of the step to a low voltage point on the floor of the base, and then making contact along the length of the stem with another low voltage point on the rim of the vase.
Goncalves is currently seeking Kickstarter funding support through his campaign - which will be open until December 11, 2013. Goncalves has 30 days to reach his goal of $78,000. If met, the Stem Light will go into final production, manufacturing and distribution.
"Stem Light has been a labor of love for me," says Goncalves. "I wanted to create a product that is equally appealing in novelty, functionality and aesthetic, and I believe that is what I've accomplished with Stem Light. I hope others will be just as excited about Stem Light as I am and help me to bring it to market by supporting my Kickstarter campaign."
To review the Stem Light Kickstarter campaign or for more information, high-resolution photography and a product demonstration video, please visit http://www.hellostemlight.com.
Stem Light's Kickstarter campaign officially runs from Tuesday, November 12 through Wednesday, December 11.