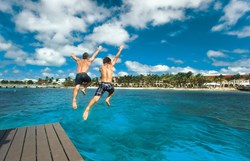 Companies like Pure Minutes offers a unique way to save on international long-distance that's as easy as picking up the phone.
New York, NY (PRWEB) November 10, 2013
Argentina, located in the southern half of south America and home to nearly thirty five million is the eighth largest country in the world and the second largest in Latin America. With almost three million square kilometres at their disposal the landscape provides contrast and an unrivaled natural beauty found in few populated areas around the world. Visiting this paradise in South America may be the epitome of a relaxed stay, but don't let the stress of money woes affect this trip. Here are some ways to stretch every dollar on the trip.
First and foremost giving your family an affordable way to keep in contact with you during your vacation is important. Keeping in contact with family and friends while overseas can be expensive especially on long vacations or study abroad programs. Companies like (PureMinutes) offers a unique way to save on international long-distance that's as easy as picking up the phone. For a limited time Pure Minutes is offering ($3 free to all first time users, so click here for details).
For those planning on a long stay and don't have loved ones or relatives willing to lend a couch, consider renting an apartment rather than staying at a hostel or hotel. As a general rule of thumb, hotels and hostels are geared to price for short stays and not extended stays. Savvy tourists can even grab a fully furnished apartment with air conditioning for as low as $200-$300 a week.
Shop local markets and eat what the locals eat. The real soul food of any country can be found in local establishments and not necessarily in the high end restaurants that cater exclusively to eager tourists. Prices for the raw materials for cooking meals at home can save even more money as a prime steak can run as low as $3 a piece and a handful of veggies can cost as little as $1.
Unlike some other countries around the world, renting a car is actually more convenient than public transportation and will actually save money. The public transportation system in the city isn't as robust as it deserves to be and we all known how restrictive tour buses can be. Argentina does have a high rate of car theft so finding a place to park will be the biggest dilemma.
Explore more of the country and don't spend too long in Cordoba or Rosario. Although respectively the second and third largest cities in Argentina, there isn't as much variety in the cities, trips can probably be completed within a couple of days each. Some highlights in Corboda include Alta Gracia which houses a great museum in the child hood home of Che Guevera. Villa General Belgrano is another hotspot which is home to a German town boasting the "third largest Oktoberfest" in the world.
To sum up: find an apartment rather than a hotel or hostel, rent a car if possible, don't spend too much time in one area, shop local, and save money on long distance calling. Planning ahead and setting up for long distance calling is simple. Using a revolutionary system that allows Pure Minutes to recognize subscribers automatically eliminates the need for complicated PIN numbers typically found on calling cards. This simplified process helps the technologically challenged grandparent or lazy college student make calls easily from their mobile or landline. Best of all there are no obligations or contracts to sign.
Using companies such as Pure Minutes it is possible to make cheap long distance calls and save valuable money that will allow for a greater vacation in Argentina. To learn more about PURE Minutes and our exclusive system which eliminates the need for complicated PIN numbers visit our website at pureminutes.com and get up to 60 free minutes for first time customers.
The PURE Minutes difference

No Hidden Fees
No Connection Fees
No Maintenance Fees
Real Minute Rounding
No Contract Required
Minutes Never Expire
Low International Rates
Reliable, Clear Quality
About PureMinutes
PURE Minutes is a leading provider of prepaid international long-distance calling solutions. We provide an affordable communication solution that offers flexibility, portability and ease-of-use for both landline and mobile users. PURE Minutes offers competitive international calling worldwide with no hidden fees, no maintenance fees, no contract required, and minutes that never expire. PURE Minutes service is sold on the web and through regional and national retailers including MoneyGram, La Nacional and payXchange and is available to customers worldwide in English and in Spanish and accepts payments through all major credit cards and Paypal.
Follow us on Twitter (@PUREMinutes), Facebook (facebook.com/PUREMinutes), and LinkedIn (PUREMinutes, LLC) for up to the minute updates.