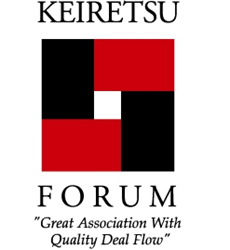 NEW YORK, N.Y. (PRWEB) November 11, 2013
Keiretsu Forum Mid-Atlantic (K4-MA) announced today that Molecular Detection, Inc. (MDI) and Pyatt Broadmark Capital have been selected to share the $125,000 first annual Angel Capital Expo (ACE) Most Valued Company investment prize. Designed to foster collaboration among early-stage companies, angel groups and the larger investment community, the expo was held October 23 at Drexel University in Philadelphia and attracted more than 200 attendees and approximately 150 accredited angel investors from the mid-Atlantic region and across the country.
Randy Williams, who founded Keiretsu Forum (K4) on the west coast in 2002 and who himself made a $100,000 commitment toward the expo, said, "Keiretsu is a term meaning 'synergy.' It's about sharing resources and growth together – both companies and investors." Williams also noted that entrepreneurs, like a winning team, need to recognize the following attributes and appeal to each of them in their story: "They need to be 'economic,' and want a return; 'hedonistic,' to be part of creating something new; and 'altruistic,' in order to make a difference."
MDI develops and markets Detect-Ready® molecular diagnostic tests to increase the speed, accuracy, ease of use, and efficiency of infectious disease. The Pyatt Broadmark Management Group is a $60-million real estate fund with unique investment parameters that has already drawn more than $6 million in west coast Keiretsu Forum investments. Among the other Most Valued Companies were third-place winner, Koppla Nutrients, fourth-place finisher Motyx, and Independence LED Lighting and Drakontas, who tied for fifth place. These companies stood out among 12 early-stage presenting companies from diverse industries including Internet-SaaS-cloud technology; healthcare, life sciences and medical devices; consumer products; clean tech/energy solutions; software-security-telecommunications technologies; and real estate.
Additionally SPF-50 was recognized as the best seed-stage presenter among its six peers, who came from a variety of channels including university technology transfer offices, college and university business plan and idea competitions, as well as mid-Atlantic area seed-stage programs.
Entrepreneurial Success Story
ACE's keynote speaker was the most successful fundraiser in Keiretsu Forum's 12 years of investing. Rob Neville, Chief Executive Officer and President of Savara Pharmaceuticals, Inc., shared how the Keiretsu network helped him raise $6.2 million in a single round of investing for his company. Savara Pharmaceuticals produces AeroVanc™, the first inhaled antibiotic being developed to address the growing population of MRSA-infected cystic fibrosis patients. Neville's participation with Keiretsu Forum helped take AeroVanc through phase-two clinical trials.
During his speech, Neville discussed his success raising approximately $11 million in funding from foundations, angels, and National Institute of Health grants, stating the benefit to Keiretsu Forum was the opportunity to speak to angels, along with deal flow. He noted the following insights:

Ask yourself if you have the right management team, and don't be frugal with money.
When trying to rise above the noise, tell a memorable story and tug at the heartstrings of angel investors, who are more impatient than VCs.
Try to gain access to people on due-diligence teams.
Don't expect money when you first present.
"You can raise more from K4 than from traditional angel investors," Neville said. "And they offer better deals. I pitched in front of every angel group. K4 is the best angel group. They are the most professional and well-run organization."
"Young entrepreneurs should not seek money but rather advice from angels," he added. "Angels have wisdom and want to help start-up companies, and with the right advice, the money will eventually come. It is important to learn from every critique and change."
ACE was organized by K4-MA and hosted by Drexel University's Earl Mack School of Law, The LeBow College of Business, the Close School of Entrepreneurship, and the Office of the President.
About Keiretsu Forum
Keiretsu Forum is a global angel investor network with more than 900 accredited investor members throughout 27 chapters on three continents. Keiretsu Forum Mid-Atlantic (http://www.KeiretsuForum-MidAtlantic.com) consists of four chapters that function as a single entity – Philadelphia, DC, Pittsburgh and New York. Keiretsu is a Japanese term for a group of organizations with interlocking business relationships, and Keiretsu Forum is a group of accredited investors with interlocking investment interests. Each chapter or region meets monthly to present rigorously screened candidates for investments. Keiretsu Forum's mission is "Great Association with Quality Deal Flow."
The Mid-Atlantic Region presents approximately five deals a month, 60 a year, to its members and accredited investor guests. Slightly more than 10 percent get funded, which is higher than the industry average.
Approximately 36 funding applications are submitted each month to the K4-MA DealRoom website, http://www.K4-DealRoom.com, and vetted by industry specialists. About 10 are then vetted by members at monthly screening meetings where they participate in a highly structured presentation-and-feedback-learning session. Four to five of the screened companies are then invited to present at subsequent monthly Forum meetings.
Entrepreneurs invited to move forward to the Forum meetings must participate in mandatory professional coaching sessions to optimize the delivery of their presentations and also agree to participate in the road show to all four cities in the region, with exposure to approximately 100 investors. Subsequently, information about their companies is posted on the organization's online global deal room for reference by all 900+ members. For global information visit: http://www.KeiretsuForum.com.