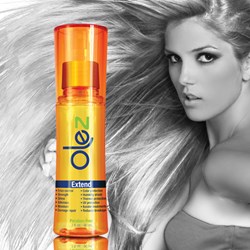 Boca Raton, FL (PRWEB) December 03, 2013
Boca Raton, FL - Boca Cosmetics Group, manufacturers of Olez® (http://www.olez.com), one of the most innovative salon hair care lines in the beauty industry, announces the upcoming launch of Olez® Extend, a miracle daily hair care product with twelve benefits in one. The multi-functional benefits of Olez® Extend include:

Frizz Control
Moisture
Thermal Protection
Strength
Damage Repair
UV protection
Shine
Color Protection
Keratin Extender
Silkiness
Humidity Shield
Breakage Control
Available exclusively through salons and online at http://www.olez.com, Olez® Extend combines the latest technology with a blend of natural ingredients to increase hair strength and elasticity, improve dry and weak hair, and repairs the damage caused by chemical processing, heating tools, and the elements.
Extend's proprietary formula utilizes a sustained release system allowing it to remain on the hair fiber for a prolonged action. Extend fortifies the hair and provides a protective shield against humidity, frizz, and UV rays.
Olez® Extend is used in place of a conditioner. After shampooing and towel drying, simply spray generously to the hair and blow-dry with a round brush. The end result is an incredibly smooth and shiny blow out. Olez® Extend can also be used to prolong the results of a salon Keratin Treatment or color service.
Samples available. Contact Lynn Lewis:lynn(at)lynnlewispr(dot)com, 305-509-9958.
About Boca Cosmetics Group:
Boca Cosmetics Group is a manufacturer of innovative, quality hair care products that combine natural ingredients with the latest technology, to deliver healthy and beautiful hair.